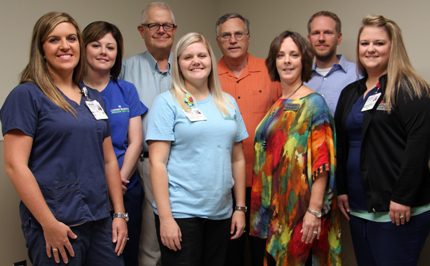 17 Apr 2017

Conway Regional wound center recognized with national award

Posted at 11:58 AMh

in

News

Conway Regional Wound Healing Center at Conway Regional Medical Center has been recognized with a national award for continued excellence in wound healing.


The Robert A. Warriner III Center of Excellence award is given to Wound Care Centers in the Healogics network that have met the highest level of quality standards for a minimum of two consecutive years. Conway Regional Health System has been a partner with Healogics in providing wound care services to the Faulkner County area since December 2008.


Alan Finley, chief operating officer at Conway Regional Health System, said, "The criteria for recognition as a Center of Excellence are stringent and require continued attention to evidence-based practice and quality outcomes. We are very pleased for our wound healing center to be recognized for the outstanding care that is provided to our patients."


Conway Regional Wound Healing Center has achieved patient satisfaction rates higher than 92 percent, a healing rate of at least 91 percent in less than 31 median days along with several other quality standards for two years in a row.


The Center was awarded the prestigious honor by Healogics, the nation's leading and largest wound care management company. The award is named for Dr. Warriner, a pioneer in wound care and the former chief medical officer for Healogics. Across the country, 334 centers were eligible and 169 centers were honored with this award in 2017.


Conway Regional Wound Healing Center offers highly specialized wound care to patients suffering from diabetic ulcers, pressure ulcers, infections and other chronic wounds which have not healed in a reasonable amount of time. Some of the leading-edge treatments offered at the Wound Healing Center include negative pressure wound therapy, debridement, application of cellular-based tissue or skin substitutes to the wound, offloading or total contact casts and hyperbaric oxygen therapy.


William Freeman, MD, medical director of the Wound Healing Center, stated, "Conway Regional Wound Healing Center continues to provide state of the art care in the management of the chronic wounds of our patients. We are certainly proud to receive this recognition as a Center of Excellence that attests to the quality of care provided by the center's staff and physicians who continue to strive to meet these expectations."


Conway Regional Wound Healing Center has been open since 2008. With four exam rooms and two Hyperbaric Oxygen Therapy Chambers, the center works to serve and care for patients throughout Central Arkansas and the surrounding area.


In addition to Freeman, physician providers at the center include Glenn McClendon, DPM, Podiatry; Alex Freeman, MD, Family Medicine; and Stacey Burnett, MD, a Family Medicine and Healogics Specialty Physician. Laken Hartness, RN, of Conway is the program director for the Wound Healing Center.


The Conway Regional Wound Healing Center is a member of the Healogics network of nearly 800 centers, with access to benchmarking data and proven experience treating approximately 2.5 million chronic wounds.