15 Dec

Conway Regional recognizes nurse, physician for their care

Conway Regional Health System has awarded Gabriel Gartman, RN, Critical Care Unit, the quarterly DAISY (Diseases Attacking the Immune System) award, which recognizes nurses for their exemplary care. Gartman was nominated for the compassionate care that he provided to a fellow nurse and his critically ill father. His co-worker nominated Gartman for the award.

The DAISY is a national nursing award that was established by the family of the late J. Patrick Barnes, a man with an autoimmune disease, in recognition of the care provided by his nurses. Conway Regional nurses who achieve the award also receive national recognition through the DAISY program.

Dr. Michael Fahr, an emergency medicine physician, was awarded the BEE (Be Exceptional Everyday) award for the compassion he showed to a family from Mississippi that was treated in the Conway Regional Emergency Department. The award is given to non-nurses who provide exceptional care to patients.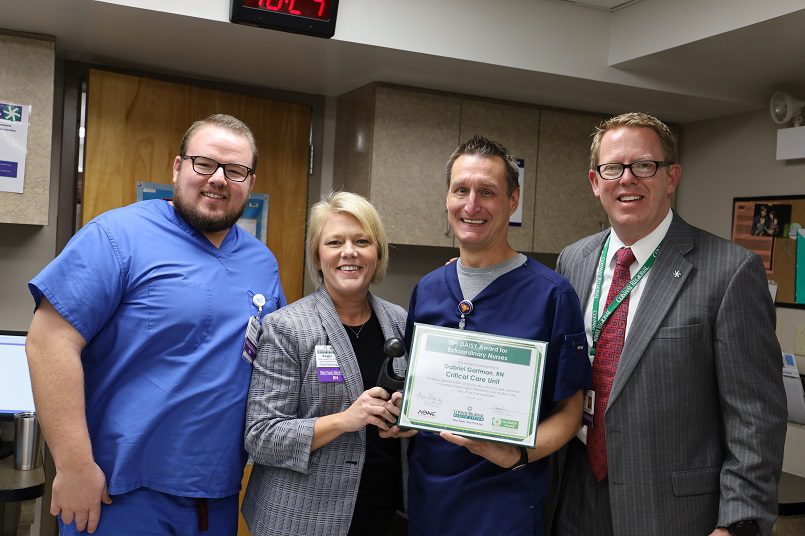 Caring for father, son
Gartman's nomination read, "Gabe took the extra time to sit with my dad and got to know him. He wrote a four-page letter to me detailing some special times dad and I shared, stories my dad had told him during their visit, and his concerns with leaving my mom behind."
The nomination continued, "Witnessing his actions, accompanied with the letter he wrote me is the sweetest thing I have experienced and it gave me a new definition of holistic nursing. Gabe cared for my dad, but he cared for my family too."
Emergency cat duty
Fahr was nominated for the BEE award for the care and compassion he showed for an elderly couple from Mississippi and their cat. During a journey to Branson, the husband was injured due to a fall and was being treated in the Conway Regional Emergency Department.
He was concerned about his wife who has dementia as well as their cat, Snoopy. The ER staff cared for the wife and Fahr shared his home with Snoopy. "Dr. Fahr kept contact with the patient's daughter until she arrived from Chicago. She picked up her parents from Conway Regional, the cat from Dr. Fahr, and they all traveled safely back to Mississippi," the nomination concluded.
Conway Regional presents the DAISY and BEE awards each quarter based on the nominations of patients, families and co-workers.