10 Jun 2018

Conway Regional recognizes employees for exemplary care

Posted at 5:13 PMh

in

News

Conway Regional Health System recently announced the winners of its quarterly DAISY and BEE awards for exemplary care. 
Nancy Embry of Conway, RN, an international board certified lactation consultant, received the DAISY (Diseases Attacking the Immune System) award which recognizes nurses for providing exemplary health care. Embry has worked in women's' and children's services for 11 years.

Vicki Copeland of Conway, a patient care technician on 3 South, received the BEE (Be Exceptional Everyday) award, which is given to non-nurses who demonstrate exemplary care for patients and visitors. Copeland has worked at Conway Regional for nine years, most of them in Respiratory Therapy.

"We are so grateful to have such compassionate and dedicated caregivers as Nancy Embry  and Vicki Copeland taking care of patients at Conway Regional," said Angie Longing, RN, chief nursing officer. "These awards are given based on nominations by patients and co-workers. Vicki and Nancy's stories make all of us proud to work alongside them."

The awards are part of a national nursing recognition program that honors J. Patrick Barnes, a patient who died from complications of an autoimmune disease in 1999. The DAISY Award was set up by Barnes' family as a way of publicly recognizing nurses who show great compassion and provide exemplary care.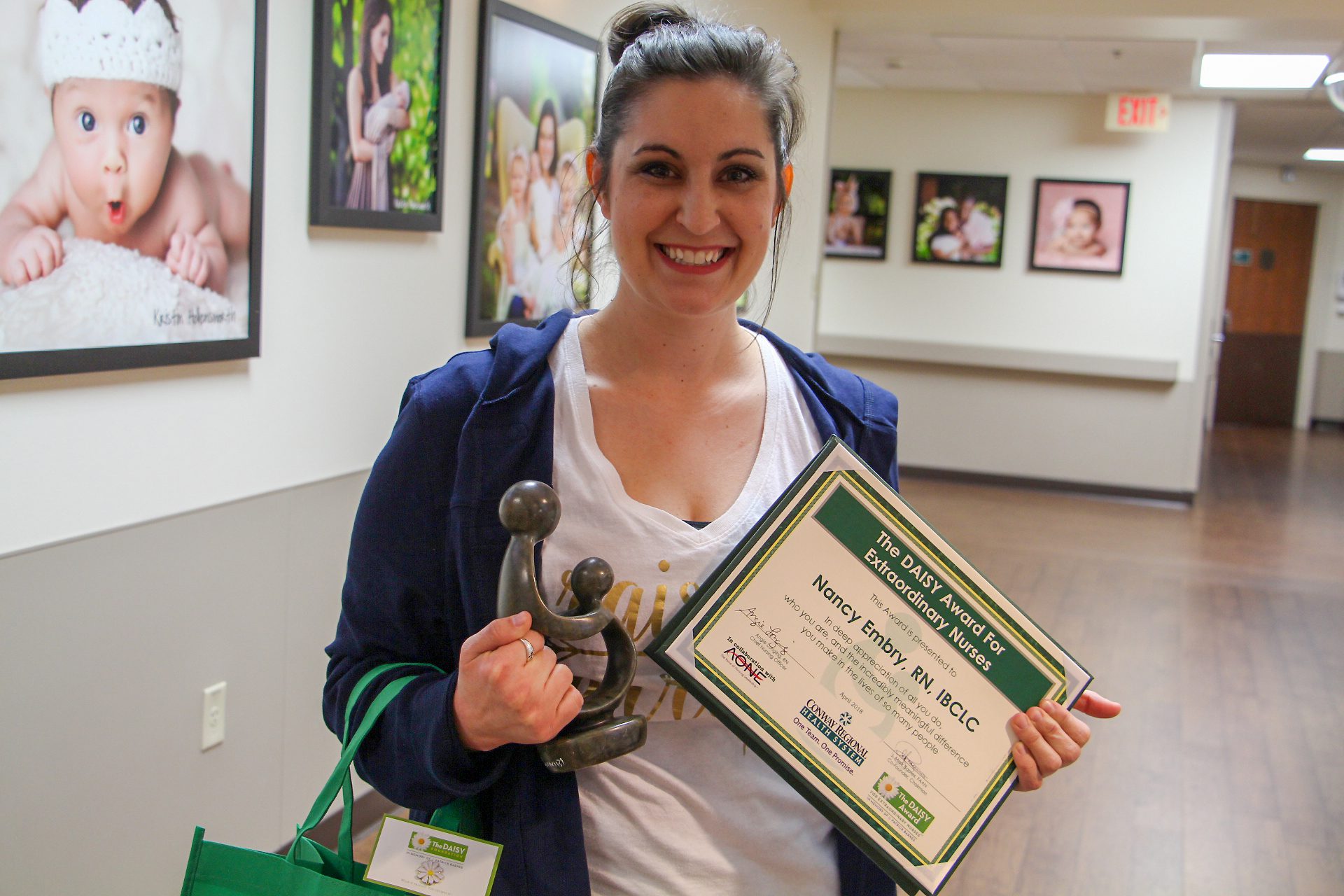 Both award recipients are chosen based on patient care "stories" from patients, visitors and co-workers. Nominations are voted on anonymously by a committee of co-workers at Conway Regional. The DAISY award is a national award of the DAISY Foundation and local winners are also nominated for national recognition.
Embry's nomination was based on a social media post from an appreciative mother whom she helped resolve a number of breastfeeding issues.
The post read, "We had some issues with latching, pulling down the milk and not gaining weight, so we went to Nancy to get some guidance and help. I am forever thankful and grateful that we made that decision. Nancy was so patient and caring throughout everything. You could tell she really had a passion for what she does."
The mother added, "She also took the time to really dig deep and find out what the problem was and what we could do to get a better outcome. She directed us to the right doctor who helped and the minute we got the problem fixed, my baby instantly latched and sucked like never before. She worked with us for most of the first year. He is now a healthy, happy child. Not only have I gained a great lactation specialist but I also consider her a great friend."
Copeland actually gave a patient the shoes off her own feet to help her recover from surgery, according to her nomination for the BEE Award. Copeland explained that she had wanted to reassure the patient who was about to go through open heart surgery. The patient was in need of shoes, so Copeland gave her a choice between two older pair of shoes and the pair she was wearing. The patient picked the new pair as well as one of the older ones, and Copeland wore the other older pair of shoes home. "I told her I wanted her up and running in those shoes. It was just something I did that day because of the need," said Copeland. "I didn't expect an award for it." The nomination was based on a letter of appreciation written by the patient.
Past recipients of the DAISY Award include Leisa Green, RN, Lisa Speer, RN, Deanna Wicker, RN, and Stephanie Ingraham, RN. Past recipients of the BEE Award are Paula Weatherley , imaging supervisor in the Cardiac Cath Lab; Patrick Collier, scrub tech in the Surgery Center; Natividad Canas-Martinez, multi skilled assistant with the Conway Regional Rehabilitation Hospital; and Phoebe Chang, a speech therapist.
All nominations are confidential and award recipients are chosen based on the patient care story submitted. Nomination forms are available throughout the medical center and also online at conwayregional.org/daisy-award-nomination-form.