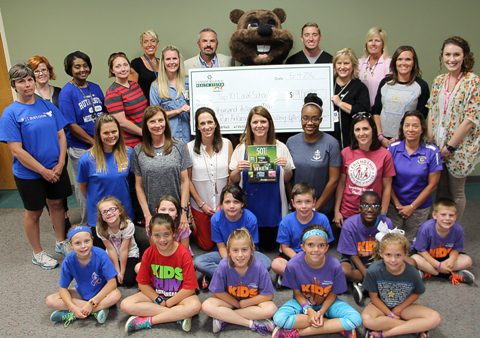 25 May 2016

Conway Regional presents $9,000 to schools

Conway Regional Health & Fitness Center recently presented $9,000 in scholarship funds to the top 10 participating schools in Kids Run Arkansas.


The scholarships are for the schools' physical education programs.


Young people from six counties representing 52 schools converged on Conway in April for the Eighth Annual Kids Run Arkansas. This year, the event had more than 1,000 registrants.


The event featured a 1-mile and 3-mile run/walk for kids of all ages as well as face painting, games and other activities. It is sponsored by Conway Regional Health & Fitness Center.


Participants received an event T-shirt and a finisher's medal thanks in part to title sponsor Groovy Smiles Pediatric Dentistry: Aaron K. Forrester, D.D.S.


Schools were awarded scholarships based on participation in the event, including St. Joseph ($2,000), Woodrow Cummins ($1,500), Ellen Smith ($1,300), Jim Stone ($1,100), Theodore Jones ($1,000), Julia Lee Moore ($800), Conway Christian ($600), Ruth Doyle Middle School ($300), Simon Middle School ($200) and Carolyn Lewis ($200).