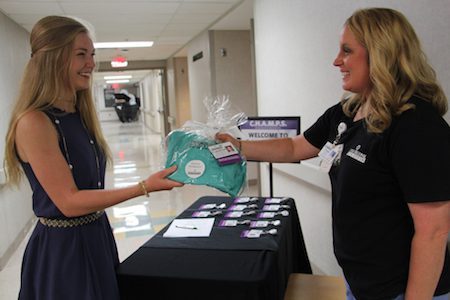 06 Jul 2017

Conway Regional launches student CHAMPS program

Posted at 11:34 AMh

in

News

Area students will have a unique experience to learn about healthcare careers thanks to a program offered by Conway Regional Health System.


This is the first year for Conway Regional to offer the one-week, Community Health Applied Medical Service (CHAMPS) program. The Conway program, which is a one-week version of the UAMS's MASH program, will be held July 10-14 on the Conway Regional campus.


During the CHAMPS program, students will participate in hands-on activities including dissection, casting/suturing and earning certification in CPR. Students will also interact with health professionals in medicine, nursing, pharmacy, laboratory sciences, physical/occupational therapy, radiology and surgery.


"We are excited to provide such an intense learning environment for Faulkner County students for the first time at Conway Regional," said Angie Longing, Conway Regional's Chief Nursing Officer. "This is a great opportunity for these students to experience first-hand what everyday life is like in the health care field."


Twenty young people were selected for the program from 37 applications received. CHAMPS is designed for students who will be entering the 11th or 12th grade and are interested in exploring careers in health care. Applications were reviewed and scored by clinical coordinators Trista Spence and Lori Reynolds and other staff members.


"In our first year, we originally were going to accept 10-12 applicants, but decided to increase the number to 20 applicants because of the quality of the applications," said Dot Welch, associate director of the Conway Regional Health Foundation and Conway Regional Women's Council.
Nine school systems are represented in the first CHAMPS class: Conway Public, Conway Christian, St. Joseph, Greenbrier, Nemo Vista, Morrilton, Vilonia, Wonderview and Rogers.
The 2017 CHAMPS roster by school:
Conway: Mary Barre, Mary (Kate) Freyaldenhoven, Jaydon Grinder and Makya McMillion.
Conway Christian: Olivia Ford and Kendra Lea.
Greenbrier: Rachel Dixon, Mary (Andie) Finley, Daizy McCollum, Ashlan Smith and Holly Smuck.
Morrilton: Alyssa Sparks.
Nemo Vista: Taylor Bess.
Rogers: Ciarra Goines.
St. Joseph: Caroline Hambuchen, Lauren Holbrook, Aidan Lambe and Brent Yrle.
Vilonia: Samantha Biltgen.
Wonderview: Shelby Reynolds.
The idea for the program was generated by the Conway Regional Women's Council, which will be providing volunteers to assist throughout the week. In addition to medical staff who will be assisting with the program, there will also be two medical students and an intern helping.

There is no cost for students accepted into the program. While Conway Regional is the major sponsor, Farm Bureau is providing $1,000 to help with the program. Arvest Bank is sponsoring the scrubs that will be issued to participants.

For more information about the program, contact CHAMPS director Lori Reynolds, RN, at 501.513.5800 or [email protected].