23 Dec 2016

Conway Regional first in state to offer eSimulation CPR Course

Posted at 12:07 PMh

in

News

Conway Regional Health System is the first hospital in Arkansas to implement the American Heart Association's Resuscitation Quality Improvement Program (AHA RQI Program) to help staff maintain skill competency and achieve better patient outcomes through regular, low-dose/high-frequency high-quality CPR training. Hands-on training can happen in as little as 10 minutes with RQI.


More than 200,000 in-hospital cardiac arrests occur annually and the survival rate from adult in-hospital cardiac arrest is just under 25 percent. CPR may seem to be a basic skill for healthcare providers but research has shown that established skills related to resuscitation should be reviewed more frequently than the two-year standard when basic and advanced life support skills are currently evaluated. To retain skills research suggests reviewing procedures as often as every three to six months.


"The American Heart Association created RQI to teach healthcare providers high-quality CPR in a more effective, concise and convenient way that drives them to practice and retain these skills with confidence," said Central Arkansas American Heart Association Executive Director Joyce Taylor. "Patients and their families deserve the best possible care, and a training solution which facilitates that by saving time, headaches, and, most importantly, patients' lives," said Taylor.


RQI is the latest evolution of dynamic CPR training bringing the learning technology and simulation stations directly to the provider. The subscription-based training program provides the same cognitive and skills modules as a traditional CPR training program, but delivers it quarterly rather than every two years to ensure resuscitation skills remain high.


"Conway Regional is leading the way as the first hospital in Arkansas to implement the American Heart Association's very progressive RQI program," said Conway Regional Health System President and CEO Matt Troup. "Conway Regional is committed to providing our patients with the highest quality care, and RQI is an excellent resource for our clinical staff. Patient care and outcomes are our priority and this program gives us yet another opportunity to provide an even greater level of training to our medical team which, in turn, directly impacts our patients. RQI's simulation-based training is more convenient and accessible for our staff, which will reduce time spent away from the hospital floor for education. Approximately 750 of our health care professionals will benefit from the RQI program involving multiple departments in support of our promise to deliver quality health care."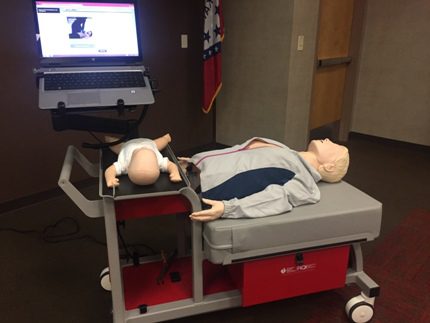 RQI is intended to improve Basic Life Support (BLS) and Advanced Cardiovascular Life Support (ACLS) skills, while making training more convenient for healthcare providers. Students can take the cognitive components of testing online and then test their psychomotor skills with real-time feedback by performing CPR at mobile Simulation Stations equipped with adult and infant manikins. Stations can be placed on hospital floors, meaning healthcare providers reduce time away from their patients because they aren't taking time off from work to learn the training and be tested in a classroom course. At each RQI Station, a tablet connects the student to training material and provides helpful audiovisual feedback for compressions and ventilations, monitors the quality of performance and provides reinforcement or suggestions for improvement.

The 2015 American Heart Association Guidelines for CPR and ECC and the 2013 CPR Quality Consensus Statement state that high-quality CPR should be recognized as the foundation for all other resuscitative efforts because it increases patient survival. The AHA RQI program helps provide better CPR. Learn more about the problem of rapid skills decay and the solution that RQI offers at heart.org/RQI.