30 Sep

Conway Regional embarks on $13 million office building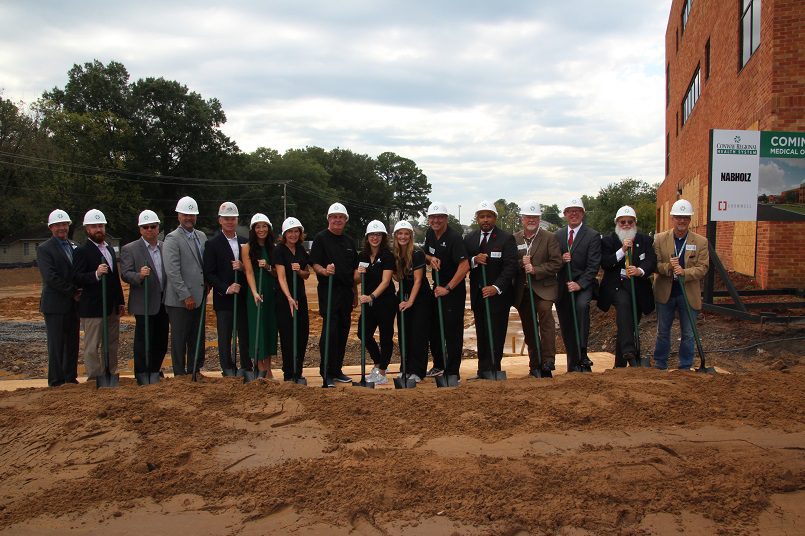 Conway Regional Health System recently broke ground for a $13 million, three-story medical office building to be located at the northeast corner of the hospital campus. The facility will be the first new building on campus in 18 years and will provide additional clinic and physician office space.   
The 42,530 square-foot building will house the Conway Obstetrics and Gynecology Clinic on the third floor, combining two current locations into one. The providers in the clinic include Drs. Andrew Cole, Carole Jackson, Phillip Gullic, Keitha Holland, Lauren Nolen and Katy Cox and nurse practitioner Katie Boyd. 
The additional building is the next step in a $60 million capital investment project that will expand and enhance services throughout the Conway Regional Health System, touching a total of 19 areas of the health system. 
"This initiative allows us to continue meeting the current needs of our patients, while also preparing to continue growing and adapting our health system alongside our growing communities," said Conway Regional President and CEO Matt Troup. "As we focus on broadening areas of our health system, our priority is always our patients. Each day, our staff answers the call to deliver exceptional health care. These changes will enrich the experience of our patients and their families as we provide additional capacity, convenience and comfort."
Other elements of the capital investment project include a new and expanded critical care unit, investment in the pharmacy and lab services, and expansion of the hospital's family practice clinic in Greenbrier. The first step of the project featured the renovation of the Conway Regional Health and Fitness Center that was completed last winter and is open to the public.
"As Conway Regional embarks on its second century of service through Central Arkansas and the River Valley, our goal is to provide health care that is recognized on a regional and national level," said hospital board chair Andrea Woods, J.D. "We will achieve these goals by employing skilled and dedicated physicians and staff, investing in innovative technology and techniques, and improving health care and outcomes for our patients."
Funding for both the new medical office building and the capital improvement projects is a combination of 2018 bond proceeds and revenue from operations.  
The office building will be located at 2180 Ada Ave. Cromwell Architects Engineers designed the building, and Conway-based Nabholz Construction is the general contractor. Plans call for the facility to be connected to the main hospital via a new, enclosed walkway. A recently-completed parking lot on Robinson Avenue, behind the hospital's Ambulatory Surgery Center, will provide additional convenience for patients visiting the new building.
Construction of the new facility is slated to be complete in the fall of 2020.