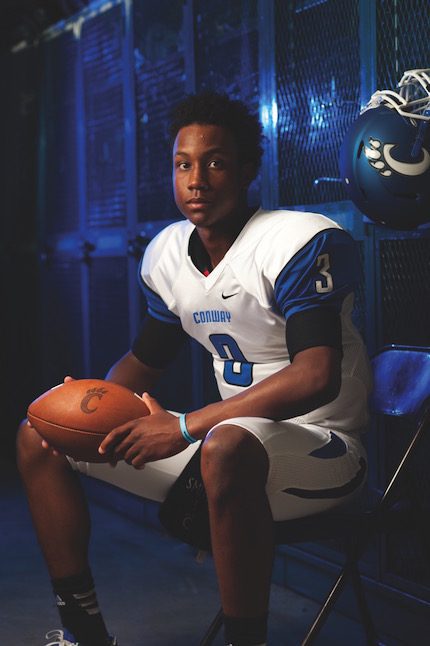 11 Aug 2015

Conway QB Breylin Smith featured on cover of 501 Football 2015

501 Football 2015 recently hit the streets, and for the first time since the inaugural issue back in 2008, a Conway Wampus Cat was featured solely on the cover.


2015 couldn't be a more perfect year to return the cover to Wampus Cat blue. The Wampus Cats graduated several starters from last year's conference championship squad, and only three starters return on offense and two on defense. But Conway is in good shape at the position that matters most on the offensive side of the ball as senior Breylin Smith returns for his third year at quarterback. Smith completed 62 percent of his passes in 2014 for 2,187 yards.


"It's not very often that a sophomore is handed the reins to a 7A program like Breylin was at the start of his career, and he handled that season with a tremendous amount of poise," said Jeff Matthews, play-by-play announcer for Conway Corporation's Channel 5 Sports. "That experience led him to his junior year and an undefeated regular season. The thing that I think makes Breylin special is that he has a coach's ability to recognize defenses and situations as they are happening. Friday nights have never intimidated him. I think that only comes from being prepared, both taking time to prepare as an individual and to be coachable, which Breylin has proven that he is."


Smith led the Wampus Cats to a perfect regular season in 2014. This fall, Smith and the Wampus Cats are hungry for even more — a state championship.


The 501 crew, including photo director Mike Kemp, recently held a photoshoot with the Conway senior. You've seen the incredible cover, but now we have the opportunity to share some of the other amazing Mike Kemp shots with all of you. Enjoy!