12 Aug 2020

Conway Kids Triathlon gives $12,000 to charity

Even though this year's Conway Kids Triathlon did not take place, organizers worked to continue to provide financial support to the Soul Food Café Mission.

This would have been the 23rd year for the event, which is typically held in August and presented by First Security Bank.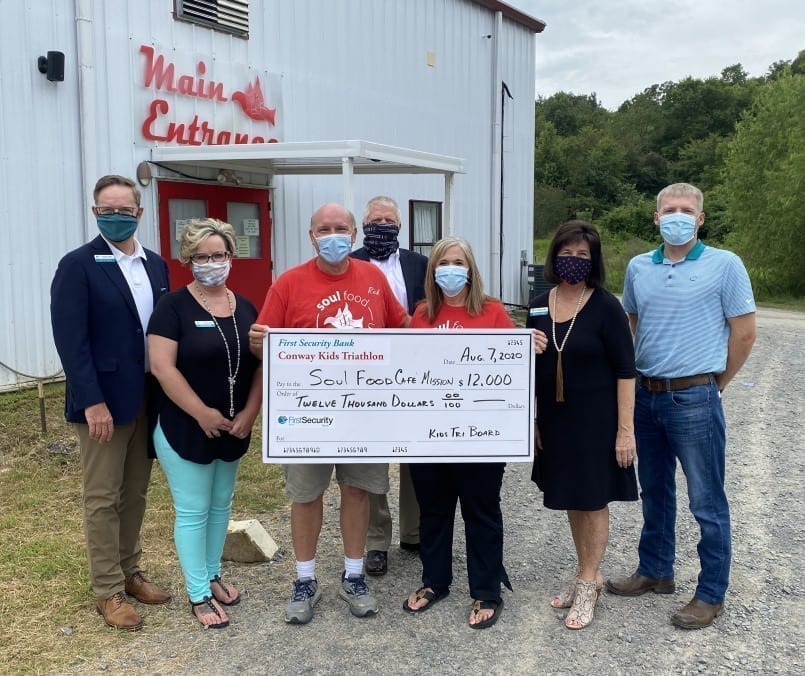 Organizers recently presented a $12,000 check to Soul Food Café's Rick and Traci Harvey.
The Soul Food Cafe Mission is a faith-based ministry run on biblical principles of reaching out to the hurting with love, compassion and hope. Soul Food provides food boxes, health and beauty items, clothing, haircuts and hot meals from 9 a.m. to 3 p.m. every Tuesday at 1717 S. Donaghey Ave. in Conway. (For more information, visit soulfoodcafemission.org or email
[email protected].)
Event sponsors who contributed the $12,000 were First Security Bank, Rock Pond Pros, Tucker Creek Vet, Conway Children's Clinic, Rhea Lana Children's Clothing, Rogers Group, Safety Before Skill, Smith Ford, Tooth Acres, Luke Porter Inc. and Conway Women's Health Center.