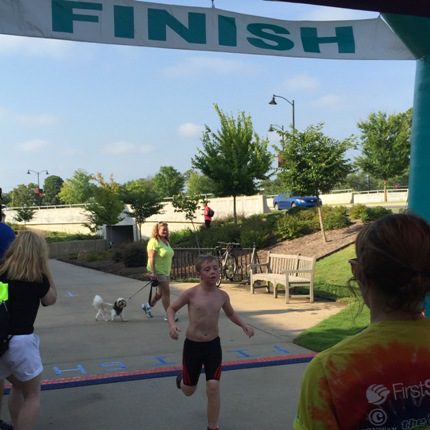 12 Aug 2015

Conway Kids Triathlon 'an amazing success'

The 18th annual First Security Conway Kids' Triathlon was "an amazing success," according to director Heather Kendrick.


The event was held Aug. 8 at Hendrix College.


"We had 231 athletes cross the finish line," Kendrick said. "They endured the extreme heat to swim, bike and run their way to victory. We are so thankful to all our sponsors, and our volunteers who made it a great day."


First Security Bank was once again the title sponsor. "As always, First Security grilled hot dogs and had food for the athletes at the finish line," she said. "We also had sno-cones and popcorn thanks to Central Events. There was lots of other post event fun too, including bounce houses and music."


The Ride, the presenting sponsor for the event, gave away four new bikes.


"We had lots of first-time finishers and it was wonderful to see their parents so proud of them at the finish line. We are also thankful for our return competitors, who look forward to the event every summer and come back to race with us year after year. They get better and faster every year and it is fun to watch them 'grow up.' "


Trophies were awarded first through fifth place finishers in each age group, 6-15, as well as an overall winner for junior (ages 6-10) and senior (ages 11-15) girls and boys. Junior overall winners were Emily Doane, 10, and Cooper Williams, 10. Senior winners were Hannah Hall, 12, and Bryan Pendergraft, 15.

This year's event had a "retro" or "throwback" theme with shirts and water bottles. The T-shirts and medals were tie-dye and the water bottles will be "mood bottles" that change color as you add water. "The kids loved those!"

The triathlon is supported by the Conway Running Club and emphasizes health, self-esteem, self-confidence and fun in a safe, family-friendly environment.

"Our board remains passionate about this event that signifies the importance of fitness beginning for kids at a young age and being a family affair. When these kids cross that finish line they know this is a milestone accomplishment for them. This is something big that we hope they will remember and want to continue striving for."

Kendrick shared her favorite moment from the day's festivities. "My favorite moment was when the last runner was almost done. We knew she was coming and all the other kids came out to support her. When she came around the corner, they started chanting her name. She was tired but she got a little extra energy from the crowd when she saw and heard them cheering for her.

"It was nothing short of awe-inspiring to watch her sprint into that finish chute. She felt like a superhero. And she was!"

Visit conwaykidstri.com for more information.