18 Apr 2011

Conway Interfaith Clinic Open House

Posted at 7:37 PMh

in

News

The Conway Interfaith Clinic (CIC) recently celebrated its expansion and announced an $820,000 capital campaign.

The clinic has entered into a lease-purchase agreement for the United Services Building in East Conway. A $134,000 Community Development Block Grant provided funds to convert the facility into a medical clinic. The Charles A. Frueauff Foundation, Virco Mfg. Corporation, Home Depot and others provided equipment and furnishings. In December, the medical component of the clinic moved into the expanded space.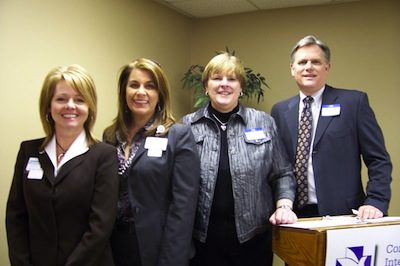 The capital campaign is chaired by Dr. Bart Throneberry, who serves as volunteer medical director at the clinic. As the result of a "Blue and You" grant, the clinic is open from 8 a.m. to 5 p.m. four days each week, and CIC anticipates serving 1,000 additional patients this year.

A dental clinic – open from 7:30 a.m. to 4:30 p.m. Monday through Thursday – will remain in the modular building adjacent to the United Services Building.

The expanded space for the medical and dental clinics will enable CIC to provide enhanced services to an increased number of residents of Faulkner County.

"The move into the United Services Building is a God-send and a miracle of sorts," said Kittie Aaron, executive director.

For information, please call 501.932.0559.