28 Feb 2023

Conway institution celebrates 100 years

By Nancy Breeden Mitchell

It takes a lot of grit and patience to begin any business endeavor, but to sustain a business for 100 years and four generations takes hard work, determination and business expertise passed down through the family. That is the legacy of Covington Roofing and Sheet Metal Company of Conway.

The company began when founder George Allison Covington set up a sheet metal shop in 1923 on Front Street. As the family marks 100 years of business, the company's president is proud of the heritage. "I'm so fortunate to lead a company founded by my forefathers that has been built upon with each generation," said fourth-generation President George Edward Covington Jr. "I take pride in leading one of the oldest family companies in Conway, with great employees and great customers."

As a tinsmith, the original George made tin pails and metal awnings for the front of many of the downtown buildings. His wife, Willie, assisted in the office. He added roofing to his business portfolio, and the business grew to include one truck, a wood-fired asphalt kettle and three employees.  Expanding its business offerings resulted in the company securing work on the Arkansas State Capitol roof in 1936.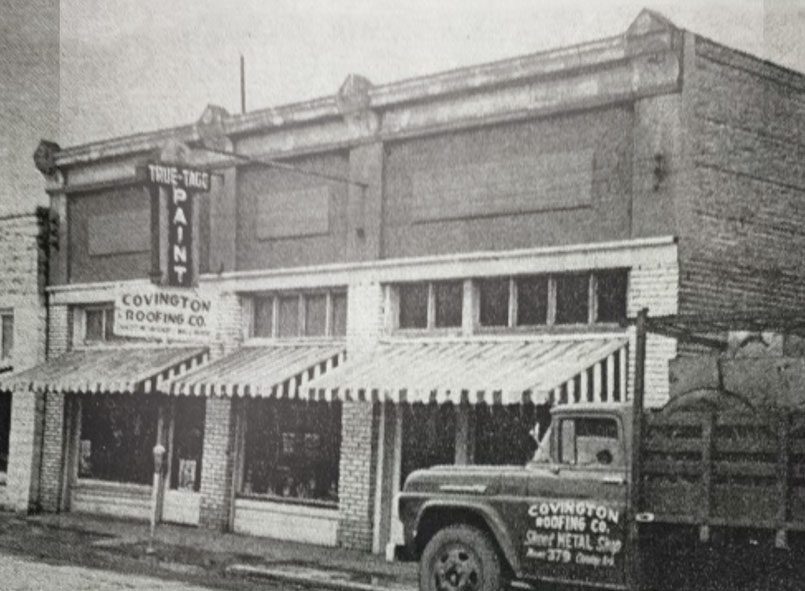 Covington was also a member of the Conway Chamber of Commerce and a charter member of the Kiwanis Club of Conway. George Allison's sons, George Willie and Fred "Jack" Covington, worked with their father during their teenage years gaining experience as sheet metal workers in making patterns and shop drawings, preparing estimates from blueprints, and gaining sales experience. The Great Depression and World War II impacted their lives. After attending Arkansas State Teachers College (ASTC), now the University of Central Arkansas (UCA), they were called to duty to serve during World War II. Due to an illness, Jack was given a medical discharge, and he returned to the tin manufacturing business until ill health forced his retirement. He died at age 29.
His brother, George Willie Covington, received a Bachelor of Science degree in Chemistry from ASTC in 1932. During the Great Depression and World War II, George W. worked for the government as a sub journeyman, a scientific aid in a materials testing laboratory, an inspector for the U.S. Food and Drug Administration, an instructor and trainer for youths in sheet metal shops for jobs in the defense industries and a supervisor for other chemists in analyzing chemical munitions manufacturing.
In 1946, with the war behind him, he was free to step in to help his father in the roofing and sheet metal shop. George W. took over the business in 1954 and his wife, Fannie Moffet Covington, assisted in the office. During his tenure, Covington Roofing Company expanded work across the state, gaining a reputation for excellence that continues to this day. He passed away in 1983, leaving the business in the hands of their son, George Edward.
"My grandfather and father were very involved in making sure that every job was done with a standard of excellence," George Edward said. "We always inspect the work that our crews perform so that we deliver a first-rate quality product. I am very proud to follow in their footsteps. Making it to 100 years is quite an accomplishment for our family and employees."
George Edward also attended what is now UCA. He apprenticed under his father during high school to become a third-generation roofing contractor in 1970. His wife, Janette, played a vital role in the business, maintaining the day-to-day office operations for years. In 1983, he saw the need to renovate several downtown Conway properties that had fallen into disrepair. Witnessing the decline of so many small towns in Arkansas, he decided that saving downtown Conway would be a major focus of his attention. So he established Covington Properties. Another factor also played into this decision.  "Our employees are like family. We also started remodeling old historic buildings to keep our roofers busy on rainy days," George Edward said.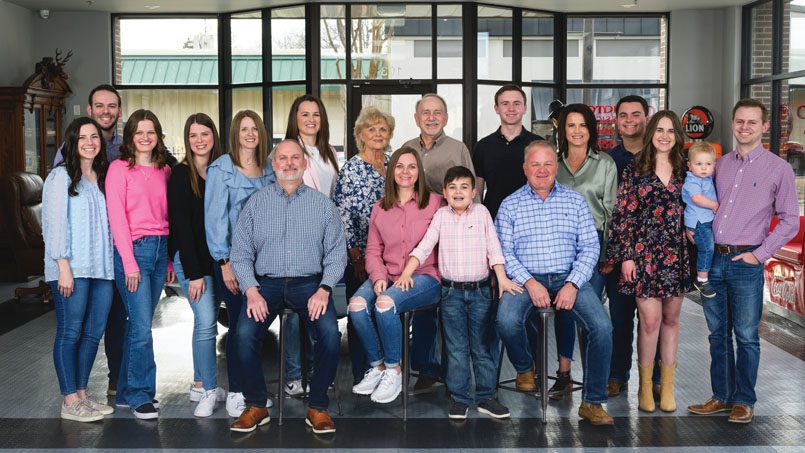 Later, Covington Construction and Equipment Company was established to remodel buildings and perform tenant finish-outs for Covington Properties. And Covington Real Estate Group was established to oversee the leasing, buying and selling of properties. Another development–a fun one–of Covington companies is Covington Classic Automobile Sales.
In addition to serving on the Board of Directors of the Midwest Roofing Contractors Association (MRCA), George Edward has been active in many community organizations as a board member and/or chairman. The company has been the recipient of numerous City Beautiful Awards for renovations. In 2008 he was honored with the Conway Area Chamber of Commerce's Distinguished Service Award, and in 2012 became the recipient of the Faulkner County Leadership Institute's Dan Nabholz Award. George Edward and Janette have three children who currently work in the family business: George Jr., Jason and Stephanie.
George Jr. joined the family business full-time after graduating in 1993 from Hendrix College with a bachelor's degree in accounting. Like his father and grandfather, he started his career working with Covington companies in some capacity during his high school and college years. His wife, Brandi, works with him, like all the Covington wives before her. He now serves as the fourth generation President of Covington Roofing and Sheet Metal Co.
"Over the years, each generation has expanded the roofing company – from hot asphalt roofs to modified bitumen, to single-ply roofs made of PVC and TPO (Polyvinyl Chloride and Thermoplastic Polyolefin) roofing membranes," George Jr. said. "We install lightweight concrete decks. The metal side of the business specializes in standing seam roofs, curved roofs and architectural metal wall panels. We are also one of the first contractors to install garden roofs on projects such as the University of Arkansas, UCA and CARTI.  We attribute our long-lasting success to our great employees, customers, and friends."
George Jr. has served on numerous boards to better his trade and community. He and Brandi have two daughters, Savannah Brorman and Brianna Pinter, and two sons, Nicholas, and Lucas Covington. They have one grandson, Levi Brorman. After graduating from UCA, Savannah began to serve the companies as an accountant, becoming the fifth generation Covington to do so.
George's brother, Jason, joined the company in 1993 and works to improve the commercial business landscape. His role as a developer, executive broker, builder and manager of commercial property puts him square in the middle of industrial, retail, and office leasing for Covington Properties. As President of Covington Construction Company, he has played a major role in building a portfolio of renovations throughout Conway.
"Changing the Face of Conway" has not only become their motto, but also their passion. "Conway is a great place to live and raise a family," Jason said. The company has been recognized for efforts in saving old downtown buildings through preservation and renovations rather than tearing them down.
Jason and his wife, Amy, have two daughters, Abigail and Katherine. Jason and George's sister, Stephanie Covington, also became involved in 1999, fulfilling office duties and landscaping the company properties. She managed the Old Gin Special Event Center and then Covington Classic Cars, which was established to showcase and sell antique automobiles.
Covington Real Estate Group was formed to manage nonfamily properties and third-party sales. "My brothers have their real estate licenses too, and can show and sell properties," Stephanie said. "We all help each other out and function as one unit." She serves as Principle Real Estate Broker and has served on the board of directors of the Conway Downtown Partnership. Stephanie and her spouse, Ashley Hutchcraft, have one son, Christian.
The Covington family is celebrating the 100th anniversary of the company this year. As one of the oldest and largest commercial roofing and sheet metal companies in the state of Arkansas, the company is in committed and capable hands and will no doubt continue to be a bright, shining star in the Conway and Arkansas business landscape for many years to come.