27 Feb

Conway High's Smith shows new leadership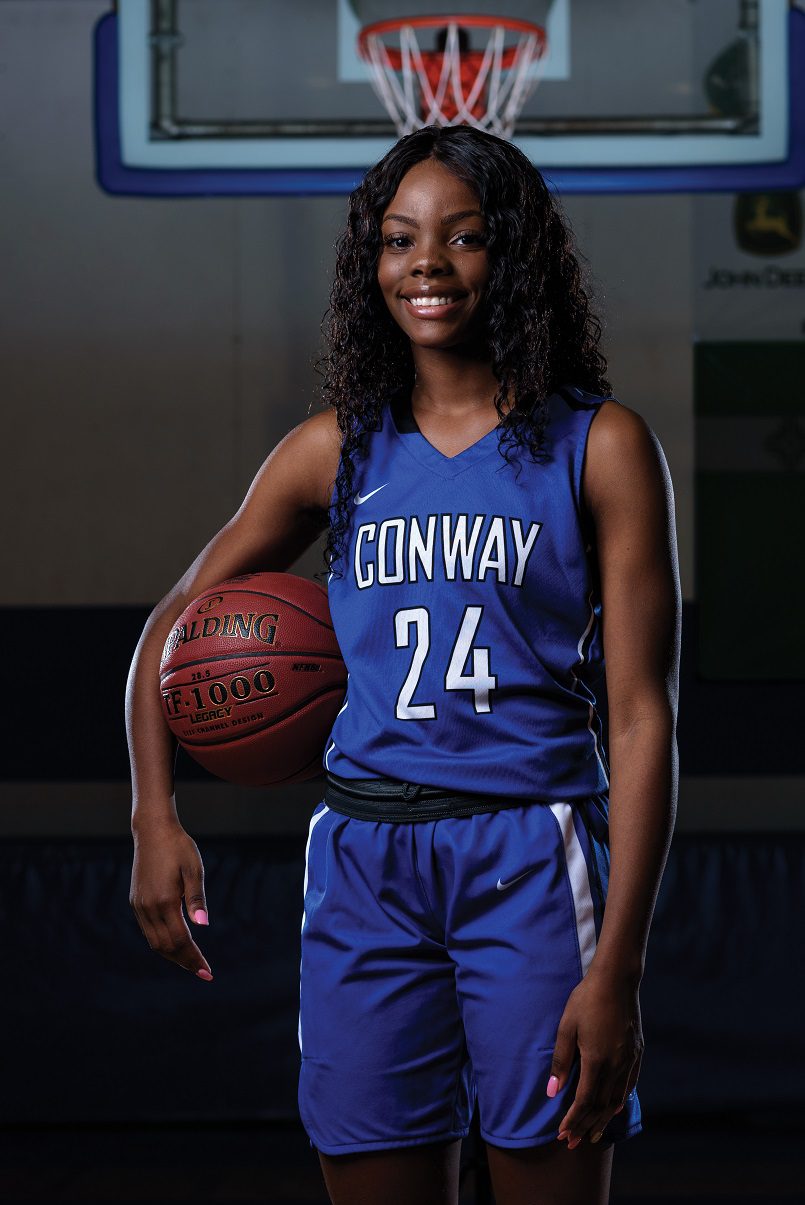 by Levi Gilbert
Life can turn in an instant. It's a lesson Asiyha Smith knows all too well. 
During the second half of 6A Central conference play, the Conway senior point guard went up for a block and landed awkwardly out of bounds. 
"My body was one way while my knee planted another way," Smith said. "I didn't think it was anything major, so I hopped back up. The pain came immediately."
Smith had injured the same knee — a torn ACL — before her freshman season. It was a pain she recognized, and it brought with it a lot of fear in the moment. Her head coach, Ashley Hutchcraft, was immediately there by her side, cupping her face in her hands and trying to bring some calm to the situation.
"Besides my mom, Coach Hutchcraft knows me better than anyone," Smith said. "She knows exactly what calms me down and exactly how I think, so it was very calming to have her there talking to me."
A few days later, Smith had her diagnosis — another torn ACL. The rest of her senior season was gone just like that.
"It's a big loss without a doubt," said Jeff Matthews, play-by-play announcer for Conway Corp 5 Sports. "Fifteen points a game is a big loss for any team to overcome."
It hasn't been an easy few weeks for Smith, to say the least. She recently completed surgery. 
"Surgery went well although it took double the time they thought," Smith said. "I feel emotionally better. I was nearly depressed waiting for surgery. Nobody knows how ready I am to even touch a ball again."
A big injury like Smith's is a cruel twist of fate for all involved and has had ripple effects all throughout the Lady Cats. 
"It was probably one of the toughest days or weeks I have had as a coach," Hutchcraft said. "The timing of the injury has made it a little more difficult as well. When you have someone in Asiyha's role get hurt so late in the season, there are two sides to approaching the situation. Obviously, for me, I need to be there for Asiyha, and still do. On the flip side, there are 19 other players looking at me for hope that our season isn't over. That can be a difficult balance, but Asiyha's response to her teammates has really helped everyone. She still expects our team to compete for a championship."
Through the pain of the situation, Smith has found a new wrinkle in her leadership skills. Although her contributions on the court have come to an end, it doesn't mean she can't still contribute to a Conway (25-4, 12-2) squad that is still very much in the hunt for a state championship. 
"They know I still support them," Smith said. "I've been an extra coach. I'll be there at the state tournament, and I'll have to lead from sitting on the bench with crutches. I've been focusing on being positive because it is very hard in times like this."
"In a strange way," Matthews said, "because of Asiyha's leadership and her deep involvement in the culture of Lady Cat basketball, her loss is not a season ender for the team. The depth of the team and the program allows for the team to still be in the hunt for a state title, even with the loss of their leading scorer.
"It appears to me that she has the respect of her teammates and the trust of her coaches. So, while she sits and watches a game unfold from the sidelines, what she observes and shares will be given value."
No one has seen that value more clearly than Hutchcraft. 
"Asiyha has always been a student of the game," Hutchcraft said. "She loves to watch film and scout our opponents. We still go back and forth throughout the day on scouting reports, and that really helps me. I think this week her being on the sideline and helping coach our younger players, like Jaiden Thomas who has basically stepped into her position defensively, will be vital for us this week.
"I told her that she was going to get to see a side of me from the bench that she has never seen before. After a few games, we have laughed, and she says it is a lot more stressful on the sidelines."
The Lady Cats earned the No. 2 seed out of the 6A Central, which gives them a bye in the first round of the state tournament. Conway will open tournament play Friday in the 6A quarterfinals. 
"Facing the tournament without Asiyha on the court is, of course, not how they would have drawn it up," Matthews said. "But, everything else about the tournament sets up nicely for the Lady Cats. Even to the draw. Some teams in the tournament will play mid-day, mid-week. That changes your routine. When do you have shoot around, when do you have your pregame meal? With the draw, the Lady Cats are in a position to basically treat this like any other road game on a Friday night. They know that it's not any other road game on a Friday night, but I think it does help with routine.
"The other thing that will help is how truly close this team is. Being on the road. Staying in hotels. Being together. It's different than if it was at home, and I think that it could work to their advantage and they will rally around one another."
Smith was selected to this year's 501 Basketball Team — 34 players representing the best the 501 has to offer both on and off the court. The team is sponsored by Conway Ortho and Sports Medicine Center, Conway Regional Health System and First Security Bank. Smith was nominated by Hutchcraft.
Smith committed to play basketball at Texas A&M University-Commerce, but her debut may get pushed back just a bit as she recovers from her injury. 
"The coaches at Texas Commerce are the most genuine, first class coaching staff I know," Hutchcraft said. "They have kept in touch with her and contacted me multiple times. They have been very involved with the process of her surgery and are still very excited to have her on campus."
The Lady Cats will face the winner of Rogers/Cabot in the 6A quarterfinals at 7 p.m. Friday at Bentonville West. The game can be viewed live on Conway Corp Ch 5/HD585 or at conwaycorp.com/wc2go. 

Latest posts by Levi GIlbert
(see all)