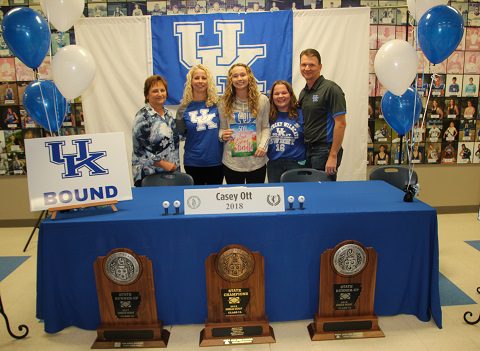 13 Nov

Conway High's Casey Ott signs to play golf at Kentucky

A large group of family, friends, teammates and even some of her opponents turned out last week to watch as Conway High's Casey Ott signed to play golf at the University of Kentucky.


Ott is considered to be a top prospect out of Arkansas.


CHS Golf Coach Janet Taylor welcomed those in attendance at Buzz Bolding Arena, on behalf of Ott's family, and thanked them for joining in on the celebration of the golfer's career. "It's a tribute to Casey when you look out and see her opponents who have come to watch her sign.

That tells you what kind of kid she is and the class act she is.


"When your opponents become your best friends, that just says it all. Tears come to my eyes when I think about that. We're all the golf family. That's what golf is all about. It's just a tribute to her to see these faces in the crowd."


Taylor also highlighted Ott's golf accomplishments, including leading the Lady Cats to three conference championships and being named All Conference and All State four times. "As proud as we all are of Casey and all her accomplishments, she's even a better person and student-athlete," Taylor said, adding that Ott has a 4.22 GPA and is ranked 10th in her class. She has made the AJGA Scholastic Honor Roll and finished in the top 2 percent of her class. She is also a member of the National Honor Society.


"She's a tremendous leader and a great teammate," Taylor said. "She's a great ambassador for the entire school and community."


Taylor also noted that Ott started a golf program this year with Community Connections, which serves children with special needs. "I'm very proud of that and she's always willing to give back to the community."


After signing, Ott thanked those in attendance, her parents and family, her coaches and teammates. "Thank you for coming. It means a lot to me."


Last week, Kentucky also signed Ryan Bender of Louisville, Ky., another prized recruit. Bender has dominated the Kentucky girls junior tournaments for a while, including winning the Kentucky High School Athletic Association 2017 individual state championship.
"I am really excited about our recruiting class for next fall," said UK women's golf head coach Golda Borst. "I believe that Ryan and Casey will have a strong impact on our program over the next several years and they will continue to add depth and experience to our roster. They are both really well-rounded individuals as well as strong competitors, and we are very happy that they chose to become Wildcats."


Ott has enjoyed a decorated junior career, including winning the Wendy's Arkansas Golfer of the Year honors in both 2015 and 2016. In September, she won the Arkansas Class 7A state championship after rallying from a seven-shot deficit with a final-round 67.
"Casey has a very strong game and I can't wait to see what she does in her four years at Kentucky," Borst said. "She has competed at the highest of levels in junior golf and she will bring a great deal of experience to our team. I believe that Casey will have an immediate impact on our program and we are so happy that she chose to be a part of the Big Blue Nation."
A consistent top finisher on the junior level, Ott won six Arkansas junior stroke and match-play titles, including winning the Arkansas State Golf Association Junior Girls Stroke Championship at just age 12. The four-time All-State selection also placed second at three AJGA events and had eight top-10 finishes, including six top-five showings in her last nine appearances. She's also advanced in three U.S. Golf Association regional qualifiers to national events.
With Ott leading the way, Conway High School won the 2016 Arkansas Class 7A state championship and finished as state runner-up in 2015 and 2017.
Over the summer, Ott was a medalist at a USGA junior girls qualifier in St. Louis, she advanced to the U.S. Women's Amateur Four-Ball Championship in Myrtle Beach, S.C., and she finished in the top five of three AJGA events.
"I chose Kentucky because of the amazing coaches, the people in the program and the great facilities," Ott said.