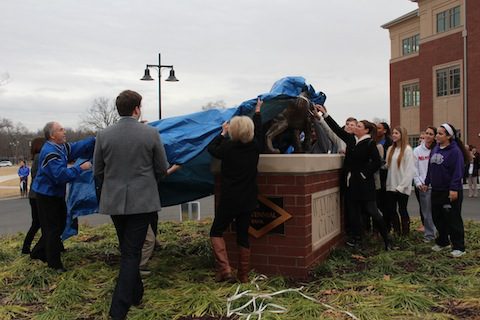 09 Jan

Conway High unveils new Wampus Cat

by Sonja J. Keith


Conway Wampus Cat fans had a lot to celebrate on Tuesday as a new statue of the school mascot was unveiled.

"Tuesday was a great day for all of us who bleed Wampus Cat blue," said Conway School District Superintendent Dr. Greg Murry. "The new rendering of our mascot will add an even greater sense of pride to our students and alumni. We are grateful to Centennial Bank for making this work of art possible."


Centennial Bank provided the financial means for the statue to help the school while also honoring banker Blake Browning by participating in the project. Browning and his family unveiled the statue, which was created by Raymond Gibby, an artist who lives and works outside of Pea Ridge (Benton County).


About 300 attended the ceremony – students, teachers/faculty, representatives of Centennial Bank and others from the community.


"The unveiling of our Wampus Cat in the CHS Round-About will add to the beauty, the class and the history of this campus and will bring an even greater sense of pride for all of us who bleed blue," Murry said.
The CHS cheerleaders and pompon squad were on hand for the ceremony. The school band – under the direction of Tim Cunningham – performed the alma mater. Student council president Jace Motley also explained "What's a Wampus Cat?" and David Druey, Centennial Bank president, also spoke and recognized Browning.

The statue was placed in a roundabout located east of the new high school, which opened last fall. "When the idea first came up of putting our mascot in the CHS round-about, we did some investigation," Murry said. "What we found was this: a tiger or a lion could have been purchased fairly easily because there are already bronze tigers and lions we could just buy. But those two extra legs required us to commission an artist to build one that would be worthy of display in front of our new school."

Eldon Bock, principal architect for the new high school, connected school officials with Brad Walpole who owns 83 Spring Street in Eureka Springs and manages various artists including Gibby who designed, cast, and finished the bronze Wampus Cat.

"I am happy to tell you that 100 percent of the cost for the design, casting and finishing of our new Wampus Cat was paid for by Centennial Bank," Murry said, expressing his appreciation for the bank's support.

A plaque will be placed at the base of the statue to honor Browning.