07 Oct

Conway High to present play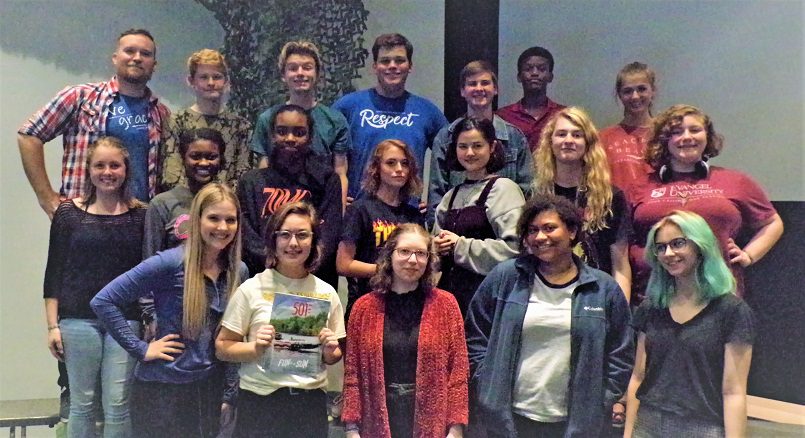 Conway High School will present the play "'Til Death Do Us Part" at 7 p.m. Tuesday, Oct. 22, through Thursday, Oct. 24, in the James H. Clark Auditorium on campus. 
The play is an immersive murder mystery that brings the audience on stage as part of a wedding celebration, during which tragedy strikes. Lotus Blossom (played by Olivia Smittle) and
Leo Lomax (played by Chris Meachum) are the lucky couple. Charity Broyles portrays amateur sleuth Polly Peabody, trying her best to solve the murder. 
Eliot Wiebe plays the Wagnerian, maternal grandmother, Mother Gearth, who is not too happy about this marriage. Also not too happy about the marriage are Newton Figg (played by Sterling Scallion), Howard (Daniel Tolleson) and Eula and Herb Lomax (played by Maddie Meek and Lawson Townsend). 
The rest of the ensemble cast includes Grace Applewhite, Adalyn Logan, Andre Walker, Grace Talley, Alia Windsor, Peighton Carson, Grace Sullivan and Braelyn Pridmore.
The play is an interactive production with clues hidden all around for audience members to uncover. 
"With this show being something CHS has never done before, it's really exhilarating to be a part of something so unique and different than your standard play," said Hannah Hasse, student director. "The audience being incorporated into the wedding party and finding clues to advance the plot allows for an enhanced experience for them, as well as a challenge for directors and actors."
"This cast and crew is full of all-stars," said CJHS theatre teacher Johnny Passmore, who directs the play. "They have been knocking it out of the park since Day 1. A month out and most are off book already. It has been a director's dream! Also, my production crew has been given tasks from publicity to costumes and they have been working extremely hard to make everything very seamless! 
"This show is very funny. I think our audiences will be pleased to see such fine talent telling such a comical story with a tinge of mystery too! It'll be the perfect October treat! And with the audience on stage with the actors, finding clues, it gives my actors a bit of work with improv! Where will the story go next? They'll have to stay on their toes for sure!"
Tickets are $10 for adults and $5 for students at the door. For more information, email [email protected].