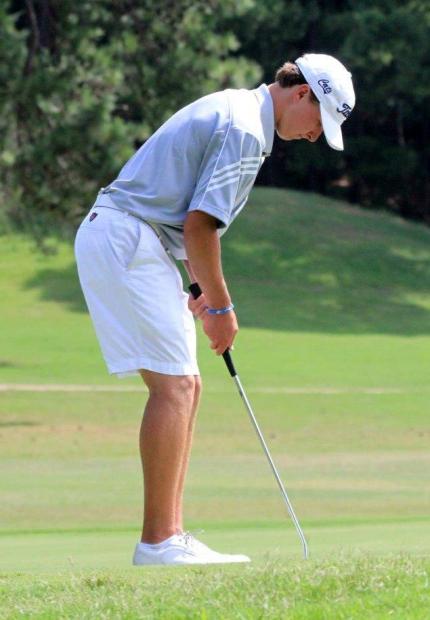 14 Aug 2013

Conway golfers aim to repeat as state champs

by Donna Lampkin Stephens


Conway High School swept the Class 7A state golf titles last fall, and despite some heavy graduation losses on the boys' side, coach Janet Taylor is optimistic for both teams' chances this fall.

"We are looking forward to another great season at CHS," said Taylor, starting her 14th season at the helm of both programs. "Our kids had an excellent summer of golf and have worked extremely hard."


In addition to the state titles, Conway teams won both 7A-Central conference championships last year.


The Lady Cats return four from that squad — all-conference and all-state selection Alexis McDaniel and all-conference member Logan Tolliver, both sophomores, and seniors Anna Turner and Emily Lock.


But senior Lincoln Hill is the Wampus Cats' only returner.
"Looking at the roster with only one returning varsity player, you would think it would be a rebuilding year (for the boys)," Taylor said. "But with Lincoln's solid play and leadership and the addition of freshman Whit Parker along with the progress of Carter Cloe, look for the Cats to make some noise again this year.

"(On the girls' side), we return four varsity players with experience in Alexis, Logan, Emily and Anna, and they are pushing each other daily to get better. It should make for another exciting year for the Lady Cats."
The Wampus Cats won their sixth state golf title last year; the Lady Cats won their first.

Taylor also coached Wampus Cat state golf championships in 2002, '08 and '11 along with state titles in girls' basketball in 2008 and volleyball in 1998.
Conway has a stellar golf tradition. The Lady Cats won conference golf titles in 2001, '04, '05, '06, '07, '08, '09, '10, '11 and '12. They finished state runner-up in 2009, '10 and '11.

The Wampus Cats were also conference champions in 1980, '81, '82, '96, 2001, '02, '03 (fall and spring), '07 and '11; state runners-up in 1995, '98, 2003 and '06 and state champions in 1978, '82, 2002, '08 and '11.

Parker won the Arkansas State Golf Association Junior Stroke Championship in June and finished fifth in the Junior Boys Player of the Year race. Hill was 12th; Cloe was 36th. Others on the Wampus Cat roster this fall are seniors Luke Baker, Josh Walker and Kyler Sanson, junior Dylan Smith and sophomores Grayson McEowen, Clay Bradshaw and Grant Risinger.

Others on the Lady Cat roster are junior Savannah Brown, sophomores Meghan Smith, Catherine Brown, Brynn Lea and Andrea Oscar and freshmen Bailey Hawk and Whitney Hill.

Lock finished 25th in the ASGA's Junior Girls Player of the Year standings; Catherine Brown was 30th; McDaniel was 32nd.

Both CHS teams opened defense of those titles last week with a pair of victories.

The Wampus Cats and Lady Cats won their dual matches with Cabot at Greystone Country Club's Cypress Creek course and followed that with wins in their Wampus Cat Invitational at Conway Country Club.

At Greystone, the Wampus Cats beat Cabot, 307-316. Parker earned medalist honors with 74. Other CHS scorers were Hill, 75; Cloe, 79; Baker, 84; and McEowen, 85.

The girls played nine holes; Cabot's Marlena Weatherly was medalist with 40. Conway prevailed, 131-140, with scoring from Tolliver, 42; Lock, 44; Turner, 45; McDaniel, 49; and Smith, 53.
At Conway CC, the Wampus Cats rolled by 23 strokes. Conway recorded 296, followed by Cabot, 319; Hot Springs Lakeside, 320; Bryant, 335; Malvern, 337; Little Rock Christian, 338; North Little Rock, 342; Conway Blue, 358; Central Arkansas Christian, 363; Maumelle, 374; and Mount Vernon-Enola, 550.

Hill was medalist with 70; Parker was runner-up with 72. Cameron McRae of Lakeside and Ethan Grace of Russellville were third with 73.

Other CHS scores came from Cloe, 74; Walker, 80; and McEowen, 83.

The Lady Cats won by 21 strokes. Conway recorded 244, followed by Bryant, 265; CAC, 281; Mount St. Mary, 285; Cabot, 286; Lakeside, 300; Mount Vernon-Enola, 307; and Conway Blue, 318.

Peyton Weaver of Bryant earned medalist honors with 76. Tolliver was second with 79. Taylor Loeb of Mount St. Mary was third with 80.

Others contributing to the winning CHS score were Turner, 81; Lock, 84; McDaniel, 87; and Smith, 92.

The Class 7A State Girls Tournament will be played at Lost Springs Country Club in Rogers Monday, Sept. 30, and Tuesday, O
ct. 1, with the boys tournament at the same venue Monday, Oct. 7, and Tuesday, Oct. 8. The Arkansas High School Overall Championship will be played at Pleasant Valley Country Club in Little Rock on Thursday, Oct. 17.