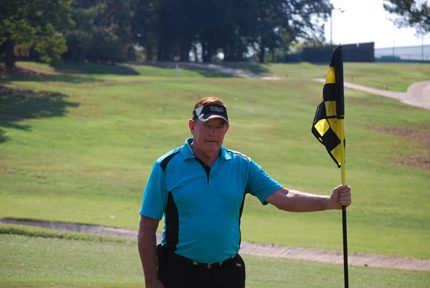 22 Sep 2012

Conway golfer hits eighth hole-in-one

by Lee Hogan

Most golfers can only dream of the elusive hole-in-one.

Most, amateur or professional, play their entire lives and are only left with stories of close calls or close shots, but are never rewarded with the ultimate prize and thrill.

Most golfers aren't Conway native Bill Dunaway, who has managed an astounding eight holes-in-one.

His most recent hole-in-one came in May at Conway Country Club on hole No. 11, which is his second hole-in-one on that hole.

While all eight have been exciting moments for Dunaway, none compare to his first ace.

"I hit my tee shot, and I felt like it was going to be pretty close to the hole," Dunaway recalled of his first hole-in-one. "My partner, Danny Ryan, said, 'Did that go in?' And I said, 'No I think I still see it,' and about that time the ball dropped out of sight, and we all went nuts.

"You remember all of them, but the first one is always the one that sticks out the most."

Three of Dunaway's aces came on Conway Country Club's old nine-hole course. Since the course moved to 18 holes, he has managed four more and added another at a par 3 at Rolling Hills Country Club in Cabot.

With so many aces in his career, it would seem that Dunaway has developed some type of strategy, but he's quick to point out there's no special trick.

"On any par 3 your first objective is to get the ball on the green, and then you hope to get it close to the hole," he said. "From that point on, luck takes over."

Over the years, "luck" has helped Dunaway build quite a few stories for the clubhouse. Dunaway said that in two different years, he has hit two aces within 10 days of each other.

"Luck" almost went a step further and provided him with an occurrence most golfers couldn't imagine in their wildest dreams.

"In 1968, I made two [holes-in-one] at [Conway Country Club] within 10 days of each other, and in between those two, I was playing in a tournament at War Memorial Park Course, and No. 9 there is a short par 3. And I hit one, the ball flew in the hole on the fly, and then bounced out and stopped about two inches away from the hole."

Dunaway, 69, plays golf around four or five days a week, and if he's able to sustain the luck he has had to date, sinking a few more aces shouldn't be an issue as he came within inches of his ninth just recently.

"Just about a week ago, a guy in the group in front of me made a hole-in-one on No. 2 at [Conway Country Club]," Dunaway said. "I was in the group right behind him, and my ball rolled up and hit the lip of the cup and spun out."

Although golf has been his favorite sport for most of his life, there was a time that he despised it. A day spent caddying for his father in a tournament at Conway Country Club, which he would continue doing for years, changed his mind about the game over night – literally.

"For a while I thought, 'this is the dumbest sport in the world,'" he recalled. "You get hot, you get sweaty, you have to go in the woods looking for balls, how can this be any fun? Then I caddied for [dad] at the 1958 Four-Ball, and for some reason I got up the next morning deciding I wanted to go out and try to play golf."

Dunaway called a few friends that morning to go out for a round of golf and never looked back.

"The bug got ahold of me pretty strong," he said. "I was so into golf I gave up my last year of American Legion baseball because I wanted to be able to spend more time playing golf and go into playing tournaments."

How many more aces does Dunaway think he has in him?

"Who knows," he laughed. "You never know when it's going to happen. I know some people that are a lot better golfers than I am who have never had [a hole-in-one] or only had one."

No matter if his future only holds one or two more, or another eight, as long as Dunaway is on the links, "luck" will give him a chance.