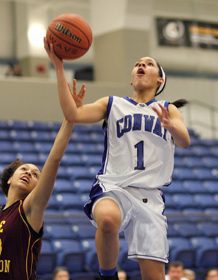 08 Feb

Conway girls team continues winning streak

by Mark Oliver


They're still winning.


The Conway White Lady Cats basketball team defeated the visiting Lake Hamilton Lady Wolves, 51-15, on Feb. 2 at Buzz Bolding Arena in Conway, capping an undefeated regular season and extending the team's winning streak to an impressive 43-straight games.
"This group's athleticism is amazing," said coach LaShanta Johnson. "I am most proud of the growth in maturity this group has developed. They have taken the time this year to learn the game and know the importance of defensive positioning and offensive spacing."

The streak, dating back to November 2009, has yet to have been challenged this season, with the closest margin of victory being 12 points over Benton on Dec. 8.

"This group is very competitive and goal oriented by nature," Johnson said. "I always tell them if you only score two points but your defense holds your opponent to zero, you still win the game. That mentality allows us to set defensive goals like forced turnovers, steals, uncontested shots and scoring limits for our opponent."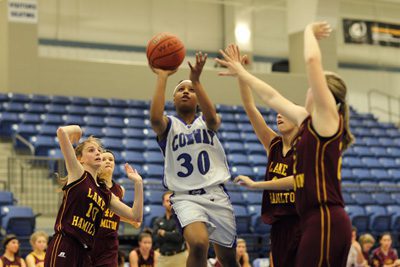 What may be even more impressive about the streak's longevity is that there are only 10 girls on the roster — all freshmen.

"We have been fortunate to not have any major injuries and we don't have a large team, but the quality of the 10 players in this group makes up for having a team of 15 or more," Johnson said.

The team has already earned many honors this season. With a win over Benton on Jan. 30, the Lady Cats secured the conference championship and look ahead to their next goal: winning the conference tournament in Bryant, with their next game Saturday.