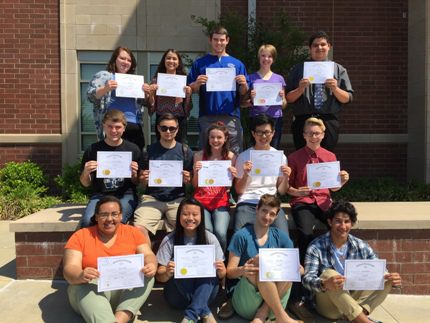 11 May 2015

Conway Forensics Team recognized

Posted at 1:50 PMh

in

News

Members of the Conway High School Forensics Team recently earned membership in the National Speech & Debate Association's National Honor Society.

The National Speech & Debate Association's honor society recognizes high school students for participation in speech and debate activities. Students earn distinction through speech and debate competition, as well community service, public speaking and leadership activities. Members are eligible to join the Honor Society once they have earned the required number of points. They then earn higher degrees through additional competition, participation and service.


Additionally, members of the honor society are held to the Code of Honor, the highest standards of integrity, humility, respect, leadership and service. These standards have been required of members since the organization was founded in 1925.


Students compete throughout the academic year at forensics tournaments across the state. These tournaments are sanctioned by AAA and governed by ACTAA (Arkansas Communication and Theatre Arts Association).


Casey Griffith is the Wampus Cat Forensics Team coach.