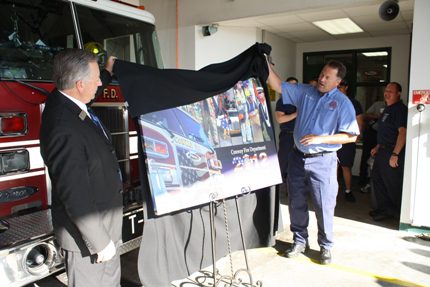 09 Apr 2012

Conway Fire Department plans anniversary bash on Saturday

Posted at 2:00 PM

in

News

The Conway Fire Department is marking "A Century of Service" with a celebration on Saturday in Downtown Conway complete with food, entertainment and activities for all ages.

The celebration is planned 11 a.m.-3 p.m. at Simon Park and along Parkway.


According to assistant fire chief Mike Winter, there will be a firefighter march from Central Fire Station to Simon Park to begin the celebration. Firefighters will be led by musicians on bagpipes and drums and the department's honor guard.


Various activities are planned for children and adults, including a modified course of the department's "Crawl, Drag and Squirt," an annual competition among elementary schoolchildren during Toad Suck Daze. There will also be a "Bucket Brigade" competition with three-person teams. The Centennial Bank Grill Masters will be on hand to provide free food.


Headline entertainment will be provided by "Yesteryear."
Fire department vehicles and equipment will also be on display as well as a commemorative canvas commissioned by Central Baptist College and presented to the department.

Conway firefighters are sporting a new, patriotic shirt while on-duty that celebrates the centennial. Nicole Moix's design was selected from about 200 entries in a contest sponsored by the fire department. Other winners in the contest were Rachel Briggler, St. Joseph School; and Bailey Guynes, Carl Stuart Middle School. The three designs will be displayed at the downtown bash.

Shirts are also available for purchase for $10 (check or cash only). Adult sizes and a limited number of youth sizes are available.

A piece of steel from the World Trade Center will also be on display on Saturday. Any money raised during the anniversary celebration will be applied to the cost of a permanent Sept. 11 memorial in Conway.

As a promotional flyer states, "Throughout 2012 we will reflect upon our past, celebrate our present and take the opportunity to look forward to the next century of service for our community."

For more information on the anniversary celebration, please contact assistant fire chief Mike Winter at 501.450.6147.