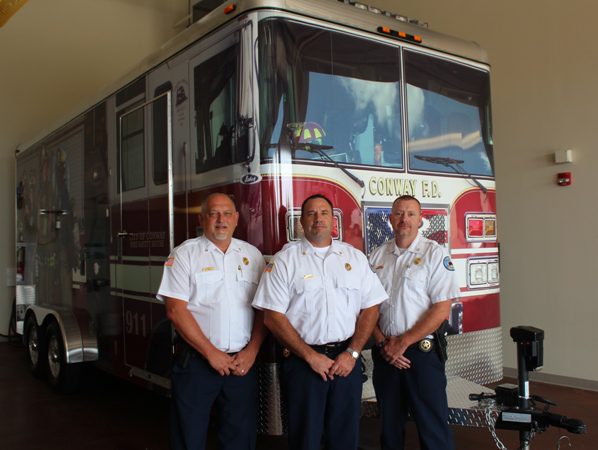 16 Sep 2013

Conway Fire Department has new fire safety house

Posted at 12:37 PMh

in

News

by Sonja J. Keith


Conway firefighters have a new tool to help educate young people about how to respond if there is a fire in their home.
The Conway Fire Department recently unveiled its new, custom-made fire safety house. It replaces one that was in service for 13 years.
"This is going to be a great tool for us and the city of Conway," said fire marshal division chief Kenny Wiedower. "I think the kids are really going to enjoy it."
The new house will be taken to Conway public and private elementary schools in October as part of fire prevention month activities. Presentations will be made for kindergarten through fourth-graders.
"This new trailer is very unique to the fire service industry," Wiedower said. "It's probably one of a kind."
Capt. Phil Kirkland and Capt. Mike Rhoades, who work in the fire marshal's office, began working on the project in May. They sketched a design for the new house and worked with Blake Lieblong at Springhill Concessions to construct it. "We knew what we wanted and what we needed," Kirkland said. "It has turned out better than I expected. We are busting with pride."

Kirkland said the department priced new units which ranged from $80,000 to $150,000 but included features that the Conway department did not need. The Conway safety house cost about $42,000.

The new safety house looks like a fire truck, complete with a bar of lights on the top. "You have to take a second look because you think you're looking at a fire truck."

The interior features seating for 25 to accommodate an average size class. There is a theater-quality sound system, a flat screen TV and a fireplace. A 10-minute video presentation details the importance of smoke detectors and what to do in the event of a fire. After the video, smoke fills the house and LED lights make it appear as if it were on fire.

"It gives a great simulation of a fire," Kirkland said.

Students can see how the smoke rises to the top, showing them that they should stay low where the air is clear. They are told to feel the door – if it's cool it is ok to exit. Students are also encouraged to have a designated place for their family to meet in the event of a fire.

After the presentation, an exhaust fan clears the smoke and the house is ready for the next class.

The new features add to the effect while also increasing efficiency, returning students to their classroom more quickly.

The new fire safety house will be taken to other events throughout the year, according to Kirkland. He said there is a "big demand" for the house.

The old safety house has been given to the county office of emergency services. Volunteer fire departments will use it to make presentations at schools in the county.

"It's a great tool," Kirkland said, explaining that firefighters hope that if a child finds himself in a house fire that they will remember their experience in the fire safety house and use the information they were given.

"There's not another one like it," Kirkland said of the new fire safety house.