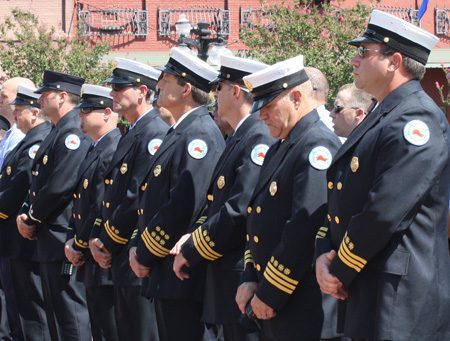 30 Jan 2012

'Conway Fire Department Centennial Celebration – A Century of Service'

Posted at 6:56 PMh

in

News

by Sonja J. Keith


A communitywide festival is in the works to celebrate the 100th anniversary of the Conway Fire Department.


According to Conway Fire Chief Bart Castleberry, the festival is one of a variety of activities planned to commemorate the anniversary. The theme is "Conway Fire Department Centennial Celebration – A Century of Service."


The city of Conway created the fire department by resolution on April 11, 1912. Prior to that, when a fire occurred there was no organized response. "It was just neighbor helping neighbor," explained Castleberry.


Like other departments across the state and nation, a lot of changes have taken place at the Conway Fire Department since it was created. "So much has changed in the fire service, especially the technology," Castleberry said.


The role of the firefighter has expanded beyond just fighting fires. Today, job duties include providing medical assistance as well as preparation for incidents involving hazardous chemicals and explosives.


"Everything has changed," the chief said.


Castleberry said 74 percent of the department's runs are medical-related. On average, there are 25 runs a day, with the busiest days recording up to 100. Thirty-three percent of the runs occur simultaneously, with two or more occurring at the same time.


"It's not unusual to have every firehouse in the city empty at one time."


CELEBRATION PLANS


The anniversary celebration is planned 11 a.m. to 3 p.m. Saturday, April 14, in Downtown Conway. It will feature local entertainment, food and activities for children. The department is planning to offer a modified course of its "Crawl, Drag and Squirt," an annual competition among elementary schoolchildren during Toad Suck Daze.


Fire department vehicles and equipment will also be on display.


"We are going to try to have everything free," said firefighter Billie Carter, one of the event organizers.


Local businesses and groups are invited to participate in the downtown event by setting up booths and distributing free items. "We would love to have every business involved," Carter said.


In addition to the event, the department is conducting a contest among local students to create a logo to commemorate the anniversary. The design will be used on a T-shirt that firefighters can wear while on-duty. A similar contest is planned among local colleges to create a commemorative poster.


A series of open houses are planned throughout the city at each of the fire stations, according to assistant chief Mike Winters. The events will give residents an opportunity to meet the firefighters who work at their neighborhood station.


The open houses will be held 11 a.m.-1 p.m. on:
Saturday, March 3 – Station 2 (East German Lane) and Station 4 (Salem Road)
Saturday, March 10 – Station 3 (Dave Ward drive north of Acxiom) and Station 5 (Prince Street in West Conway).
Saturday, March 31 – Station 6 (South Donaghey Avenue) and Station 7 (Old Morrilton Highway).


Other activities in the works include:
A 9/11 memorial featuring a piece of steal from the World Trade Center. Any money raised during the anniversary celebration will be applied to the cost of the memorial.
A 5K or 10K run.
A Conway firefighters cookbook.


"This is our way of giving back," Carter said. "We are proud to be a part of the city of Conway. This is going to be one heck of a celebration."


For more information on the anniversary celebration, please contact the fire department at 501.450.6147.