19 Jan 2020

Conway couple includes 'fur-baby' in wedding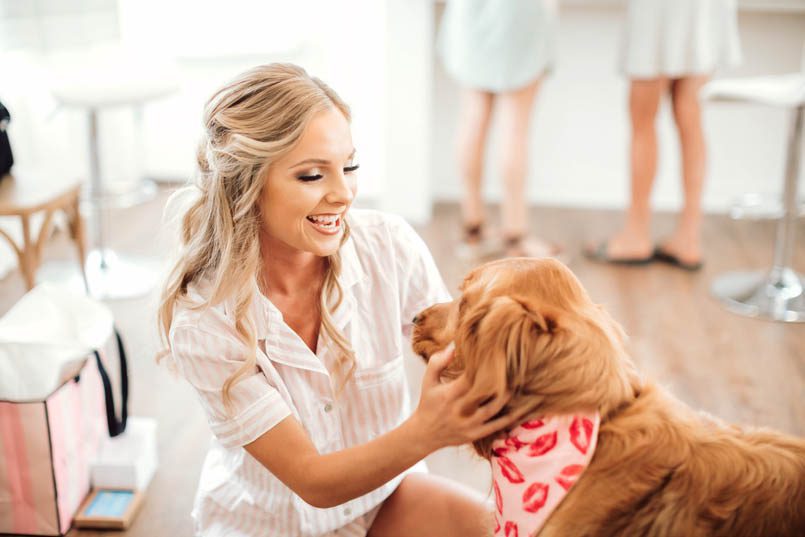 by Callie Sterling
Many dog lovers consider their pets to be family. It has become a trend in the wedding world to include them in wedding festivities. As a wedding photographer, I have photographed many brides and grooms with their fur-babies within the last few years. 
As an animal lover myself, I enjoy photographing pets with their owners during such a meaningful time in their lives. My husband, Jaison, and I personally included our English Shepherd in our wedding as the ring bearer; she walked alongside our two small cousins. When couples ask me if I think they should include their dogs in their engagement, bridal or wedding photos, I always encourage them to do so. If a pet is important to you, and to your story, include them. It is a great way to preserve the moment and the love you share, not only for your future spouse but also the love you feel for your pet. 
In May 2019, Gavin (Stiles) and Tyler Langley, of Conway, tied the knot at the Grandeur House in Little Rock. Their fun-loving Golden Retriever, Sophie, was alongside them during their engagement session, bridal session and on their wedding day. 
"Sophie is our 3-year-old golden retriever," Gavin said. "We adopted her together while dating. She celebrated our engagement with us; and we could not have imagined our wedding day without her. She truly made us a family and we love her so much!" 
Sophie was included in the couple's wedding party, where she happily greeted guests throughout the day.  "She was our 'dog of honor' and made her presence known while wandering down the aisle, being sure to stop and say 'hello' to everyone along the way," Gavin said. 
As an important addition to the Langley's lives, it was a must that Sophie was able to participate in their special day. "Sophie is truly a blessing and adds so much to our lives," Gavin said. "She never fails to show us unconditional love and bring many, many laughs. She is happy every moment of every day and reminds us to find joy in the minute and mundane moments of life." 
As a therapy dog, Sophie is used to interacting with people, and is highly socially adept. Her training as a therapy dog helped make her a great fit for her role in the Langley wedding. 
"Sophie is also a certified therapy dog through Therapy Dogs International (TDI) where she is able to serve others by bringing joy and comfort to those in need," Gavin said. 
If you are considering including your fur-baby in your wedding, they can certainly add a unique sense of comfort and joy to an exciting, yet overwhelming day. As a wedding photographer, this is a trend that I hope does not fade and couples continue incorporating their furry friends into their wedding and engagement photography.