03 Apr 2023

Conway Corp's good news program is perfect fit for 501 LIFE

By Crystal Kemp

In 2022, 501 Editor Stefanie Brazile began making a monthly visit to the Conway Corp Channel 5 Studio to spotlight the most recent issue of 501 LIFE on the Conway Corp local origination show "Here and There."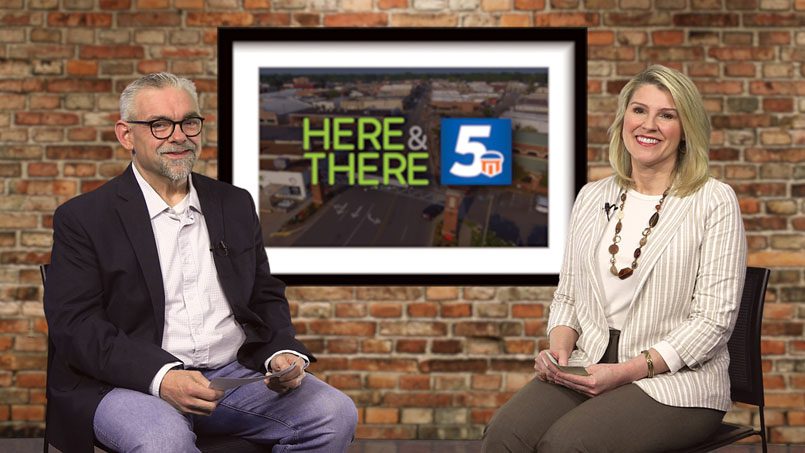 "Here and There" first aired in July 2016 and was hosted by Whitney Long and produced by Ryan Tucker. Currently the show is hosted by Video Production and Local Programming Manager Jeff Matthews and produced by Production Coordinators Wayne Bailey, Ashtyn Brown and Javan Massey.
"The goal of the show is to spotlight life in Conway. With so many interesting people and stories in our community, we think we have just scratched the surface of what makes life in Conway what it is," Matthews said.
One of Conway Corp's six core values is community, and the people and quality of life in Conway has been a focus of our company since our founding in 1929. A unique way Conway Corp is able to connect with the community is through Channel 5 and programs like "Here & There".
"I appreciate the opportunity to introduce five or six Faulkner County stories to viewers each month," Brazile said. "Jeff makes the interview process easy and Wayne, Ashtyn and Javan are also excellent professionals to work with.
"Our goals align with Conway Corp's 'Here & There' program in that we want to connect people by communicating what is going on in our community that is noteworthy and positive."
Channel 5 is the city's source for local community programming and provides unique content exclusively for Conway Corp customers. On Channel 5, you'll find programming from community events and the Conway City Council plus locally produced programming like Channel 5 Sports, Breathe, Mr. Foy's Easel, Gavin & Gordy and more.
"Our partnership with 501 LIFE is a natural for being able to share even more of the things happening in our community. It has been a great fit," Matthews added.