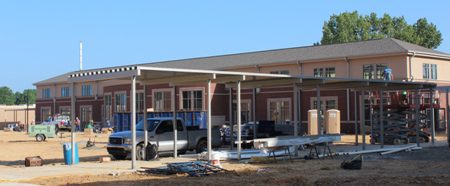 17 Jun 2013

Conway Corporation to fund Teacher of the Year gift

Posted at 3:22 PMh

in

News

Conway Corporation's board of directors recently approved a gift to the Conway Public Schools Foundation, a nonprofit organization organized to partner with teachers to enrich the learning environment by funding innovative programs and resources that stimulate creativity, promote excellence and enable life-long learning.
"We are continuing a long tradition in our support of education in Conway," said board chairman Lori Ross.

"The foundation will endow a $440,000 gift over four years," said Ross. "Proceeds will fund the newly named Conway Corporation Teacher of the Year award and grants to classroom teachers."

"This is an investment in our future," said CEO Richard Arnold. "Conway Corporation has its foundation in supporting education in our community, and we are proud to build on that foundation with this investment in the students of Conway."
"We are excited to partner with Conway Corporation," said Arch Jones Jr., president-elect of the foundation board. "Naming the teacher of the year award in honor of their generous support further demonstrates their commitment to education in Conway.

"The gift also allows us to grow the teacher grant program, which has been an exciting and rewarding part of the work the foundation has been doing since it was founded in 2007."
Conway Corporation operates the city-owned electric, water, wastewater, cable television, Internet and telephone services for the citizens of Conway. It was established in 1929 as the community faced the threat of losing Hendrix College and Central Baptist College. At that time, the Corporation was given the lease on Conway's electric system and a franchise. Bonds in the amount of $215,000 were issued and given to each of the three colleges, along with the public and parochial schools.