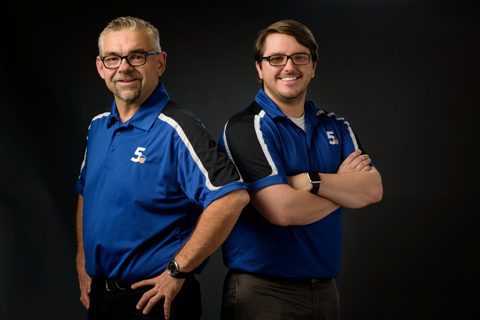 10 Aug 2016

Conway Corp to broadcast Wampus Cat football in HD

Conway Corp has been broadcasting Wampus Cat football for 16 years and this year is proud to announce the addition of high definition broadcasts to the viewing options for Wampus Cat games.


"Fans will love seeing the Wampus Cats in HD," said Conway Corp Marketing Manager Crystal Kemp. "The pageantry of high school football on Friday nights – the teams, the bands, the spirit squads – all of it looks great in HD and we are proud to bring that to Wampus Cat fans."


Rebroadcasts of Wampus Cat games will be available in HD on Conway Corp Channel 585 and the 5 Sports YouTube channel and in SD on Conway Corp Channel 5 and Video OnDemand.


Also this season, live broadcasts of Conway's road games are available with WampusCats2Go on Conway Corp Channel 5 and YouTube through any internet connected device.


Jeff Matthews returns for his 16th season as play by play announcer. New this season, he will be joined in the booth by Levi Gilbert as color commentator. "I'm looking forward to working with Levi during the football season," Matthews said. "He is a talented journalist and has covered the Wampus Cats for the last decade. He did a great job on our basketball broadcasts in the spring and will bring an exciting new perspective to our football broadcasts." Gilbert is the associate editor of 501 LIFE.


Watch Matthews at 9 p.m. Wednesday, Aug. 17, for the Conway Regional Health System Wampus Cat Football Preseason Show on Conway Corp Channel 5/585 as he talks with Coach Clint Ashcraft about the upcoming season. Conway Regional CEO Matt Troup and board member Pastor Cornell Maltbia will also join Matthews to talk about the long tradition of Conway Regional Health System and its support of Conway Public Schools and Conway Athletics.


Replays of all games will be shown on Channel 5 and 585 at 2 and 7 p.m. Saturday and 8 p.m. Thursday and anytime on Conway Corp Local OnDemand Channel 200. Conway Regional Health System will serve as the 5 Sports sponsor for the season.


For more information about Channel 5 Sports visit conwaycorp.com/Channel5.