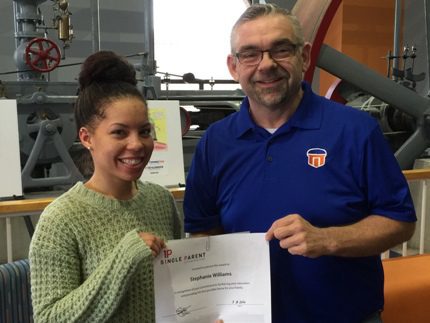 28 Mar 2016

Conway Corp presents scholarships

Posted at 12:58 PMh

in

News

Conway Corp recently awarded two scholarships for the spring 2016 semester during the Single Parent Scholarship Fund of Faulkner County ceremony held at the Faulkner County Library.


Kristen Hardcastle and Stephanie Williams were awarded $750 each as Conway Corp Scholars. Hardcastle is pursuing her degree in human resources at Central Baptist College and Williams is pursuing a political science degree from the University of Central Arkansas. Both Hardcastle and Williams were selected because of their personal commitments to furthering their education for a better future for their children.


Conway Corp has supplied $4,000 in scholarships for SPSF of Faulkner County since 2010.

"We are proud to build on the foundation our company was founded on by supporting education in our community," said Conway Corp CEO Richard Arnold.

The mission of the Single Parent Scholarship Fund is to enable single parents to attain self-sufficiency through post-secondary education.

"SPSF scholarships help single parents stay in school so they can get the training and education they need to support their family," said Suzanne Wiltgen, field director for the Central Region of Arkansas SPSF. "We couldn't do this without community support, and we are delighted to have Conway Corp involved in SPSF of Faulkner County."