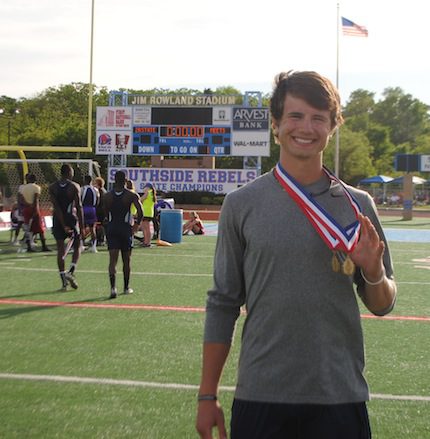 08 May

Conway Christian's Dather soars as state champion

Prior to the District 2A 5 North track meet, Conway Christian High School Senior Andrew Dather had no idea how to triple jump or what was even a good triple jump.

"I told Andrew he was going to do it, and he said 'ok, but I don't know how.' I showed him the steps about 20 minutes before the meet began, and he won district going away," said Jeremy Carson, CCS track coach.


Dather landed a jump of 41'7" to win district and earn a trip to the state finals.


"Those guys from England (High School) kept telling me to show them something. I just went out there and jumped," said Dather.


Dather also won the district title in long jump (21'7") and high jump (6'1"). After he had already won the high jump, he put on a show. "He had already scratched twice on 6'2", so I told him to do a front flip. He cleared everything," said coach Michael Carter.


At the state track meet, Dather finished sixth in the high jump. He saved his best two performances for the triple jump and the long jump.


In the triple jump competition, Dather had to battle with Lafayette County's Randy Pickens and Tredarius Burks. Pickens was the top seeded triple jumper in the state, and Burks, a freshman, was the second seed.


"We knew coming in that Dather would be one of the top jumpers in the state, but those two young men are as talented and explosive as they come."


Dather finished his preliminary jumps with a personal best and school record 42'6". This was the second longest jump of the prelims. In the final round, Dather bested himself by a full foot (43'6") as he squared off against Pickens and Burks. On his second jump, Dather hit 43'7". It came down to Pickens's last jump. He leaned back as he landed a 43'6" jump.


"That was a huge relief to hear that measurement from the judge. It was that close. I am so proud of how Dather was just able to pick up the technique. He is so explosive, and most of all, he is a fierce competitor," said Carson. "The competitor in him would come out full force during the long jump event."


Dather cruised to the finals in the long jump, once again occupying the second seed in the finals.


"Andrew was consistently a foot behind the board. We just told him to attack it to stretch out his length."


Dather's first attempt was a scratch (stepped past the board). On his second, he adjusted his steps and landed a 21'7". "I don't think I sprinted fast enough and I took off behind the board. I wasn't confident on that jump."


Burks landed a 21'10" jump on his second attempt, and Gurdon's Chris Penny landed a 22'1" jump to put Dather in third going into his final jump.


"I looked at the dude from Rison and said 'here goes nothing.' I just let go and didn't care if I scratched. It was all or nothing," said Dather.


Dather hit 22'7.5" on his final jump. "He seemed to hang in mid-air for about an hour," said Coach Carson. "That jump was as clutch as it gets."


Burks couldn't match Dather and Penny scratched on his final attempt, allowing Dather to take home a second state championship.


Dather will compete in the Meet of Champs at Lake Hamilton High School on Saturday, May 11, in both events.

The Meet of Champs consists of the state champions from each classification and the next five highest marks overall.


"I look forward to the opportunity to compete against the best in the state," said Dather.


Dather has signed a football scholarship with Harding University, but hasn't counted out the opportunity to compete on the track team as well.