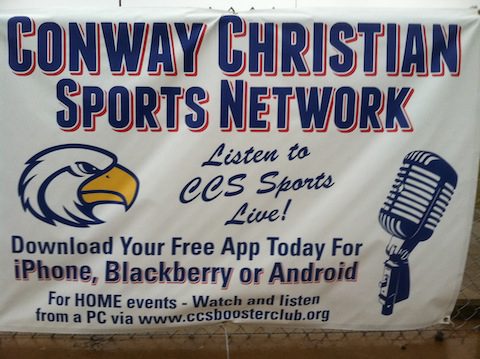 16 Nov 2011

Conway Christian launches sports network

by Mark Oliver


There's a new way to keep up with Conway Christian athletics.


The Conway Christian sports network offers a free and reliable way for fans to tune in to athletic events from anywhere in the country.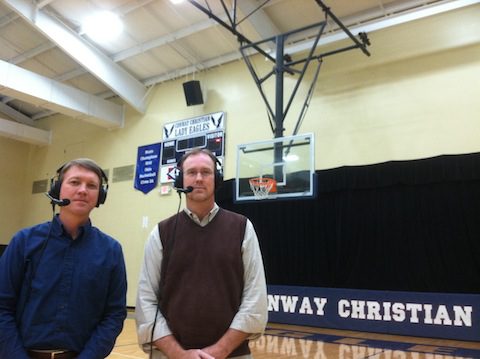 Previously, Eagles games were broadcasted through a local radio station, but the school would occasionally be bumped off the air due to other schools having higher priority for live broadcast timeslots. This created problems for parents and fans trying to listen to games as well as advertisers.

That's when Conway Christian Booster Club president Chris Powell came up with a solution. "I just started looking for a company that could help us with the streaming capabilities we needed at a reasonable cost," Powell said. "We wanted to give our parents that have to travel due to work the ability to stay connected to their kids' sports and we wanted to give our advertising sponsors a quality outlet for their messages."

Powell contacted Surfer Network, a New Jersey streaming company, to get the process started. Using a laptop, Conway Christian sends information via a mixer board and video camera and Surfer Network then distributes the information to the network's website and smart phone applications.

Not only does the network allow parents to watch and listen to their children's sports activities with ease, but it also provides out-of-state friends and family members the ability to experience the action as if they were witnessing the event in person.
Through the network, fans can experience all football games from seventh grade to senior high, select volleyball and basketball games, select baseball and softball games and possibly soccer games in the future. There's even a possibility that non-athletic events such as graduation and awards ceremonies will also stream live through the network in the future.

John David Smith and John Meriweather, parents, have volunteered their time to broadcast the games.

Conway Christian fans can access the network online by visiting http://www.ccsboosterclub.org. Audio and video streaming will be available for home games on the website. For away games, only audio broadcasts will be available.

The network also offers a free, audio-only application for iPhone, Android and Blackberry smart phones.
The app allows users to experience events without being forced to sit in front of a computer screen. One can obtain the app by searching "Conway Christian Athletics" in his or her phone's app store.

Conway Christian's next broadcast will be the junior and senior high boys and girls basketball games vs. Academics Plus at 5 p.m. Friday.