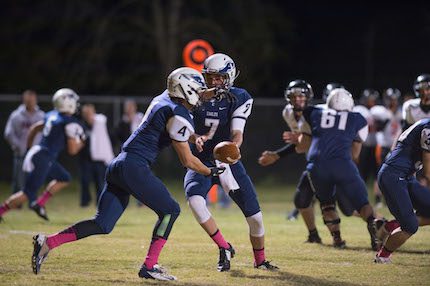 19 Nov 2014

Conway Christian 'fired up' for playoffs

by Mark Oliver


It's a great week to be a high school football fan in Conway.


After earning its first conference championship in school history, Conway Christian enjoyed a much-deserved first round bye in the class 2A playoffs. With just sixteen teams remaining in the hunt for the 2A title, the Eagles enter the playoff fray with heightened focus and excitement.

"The football team is business-like in their preparation, much like they have been all year long," Eagles play-by-play announcer John David Smith said. "The student body is fired up and ready for football on Friday night. The greater Eagle Nation that includes families, friends, alumni and members of the community are ready and excited to watch this team perform yet again. We know that they will be well-prepared and motivated to play hard for God's glory, family honor, school pride and self-dignity."


Conway Christian's first playoff opponent will be no pushover as the Eagles welcome Des Arc to Conway on Friday night. In a 33-6 drumming of Bigelow a week ago, Des Arc had three players eclipse the 100-yard rushing mark—a trio of talented athletes that may prove to be a challenge for Conway Christian.


"Offensively, Conway Christian will be challenged to move the ball against a very good Des Arc defense," Smith said. "Des Arc has good speed on defense. They pursue the ball well and they are fundamental in their form and assignments. Defensively, Conway Christian will have the same difficulty. They will have to stop the rushing attack of Des Arc and its sturdy offensive line."


In the contest, Conway Christian will attempt to go where no Eagles team has gone before—round three of the Class 2A playoffs.


"This team has a senior class that went undefeated in seventh grade, went undefeated and won the district in ninth grade and now went undefeated in the district as seniors," Smith said. "I believe that this is the best team in school history. They have meshed well and each one does what needs to be done. I think that if this team is going to go far, it will depend on that team effort continuing."


For such a challenging opponent, Smith says the Eagles benefit greatly from playing the game at home.


"Home-field advantage is indeed just that, an advantage," Smith said. "The most obvious advantage will be the home fans. Conway Christian has had great support all year long. Several players mentioned the electric atmosphere among the fans during the Magnet Cove game, and they commented on how much it made a difference. With the temperatures falling and a forecast of rain for Friday night, it will be a huge factor if the fans are willing to be at Mission field and support the Conway Christian Eagles."


Conway Christian plays host to Des Arc in round two of the Class 2A playoffs at 7 p.m. Friday.