19 Aug 2018

CONWAY CHRISTIAN: Eagles remain dangerous in 5-2A

Conference: 5-2A
Coach: Justin Kramer
'17 Record: 11-2

With a coaching change last fall, it would have been understandable for the Conway Christian Eagles to have a small drop-off on the field as they learned a new system, but that was far from the case. A talented group of seniors led the program to a school-record 11 wins and another share of the 5-2A title. The Eagles eventually fell in the 2A quarterfinals at Mount Ida, 34-28.

"Being the first year, there was a lot to learn both on my side and for the players," Coach Justin Kramer said. "I was pleased at our progress and felt like we had a great year."

With talent back all across the field — especially at the skill positions — the Eagles are primed for another 5-2A title run.
Senior all-state quarterback Jacob Wood returns after throwing for 2,418 passing yards and 25 touchdowns last fall. Add in his rushing stats, and Wood racked up 3,539 total yards and 50 total touchdowns. Senior running back Wyatt Lawrence gained valuable experience last fall in rotation. Junior John Michael Scherrey gives the Eagles flexibility as he can line up in the backfield and at receiver. Top receivers include seniors Jesse Dather, Bennett Ellis, Brandon Shaw and Nick Sherrey. Linemen Lou Kerst, Jevin Callaway, Jack Stapleton, Beau Stevenson and Russell Jackson provide the foundation of the Eagle offense.
Callaway and Kerst are two-way starters on the defensive line. Callaway recorded six games with seven or more tackles last fall. Newcomer sophomore Robert Taylor brings quickness to the defensive line. Jackson put up big numbers at linebacker last fall with 84 tackles. Stapleton and juniors Clay Hammett and Miguel Thorpe hold down the other starting linebacker positions. Both John Michael and Nick Sherrey start in the secondary, alongside Ellis and senior Matthew Dent.
Ellis will rarely come off the field as he also handles the Eagles' kicking and punting duties.
"We feel good about our continued growth on both sides of the ball," Kramer said. "We are installing a new defense this year. Our strength is our experience at the skill positions. A weakness will be our depth."
5 Players to Watch: 
Jacob Wood (Sr. QB)
Nick Scherrey (Sr. WR/DB)
Brandon Shaw (Sr. WR)
Russel Jackson (Sr. OL/LB)
Jesse Dather (Sr. WR)
1 Must-see Game:
"England. It'll be a matchup of probably the best two teams in the conference." — Kramer
2018 Schedule:
Aug. 25 Bauxite
Aug. 31 at Spring Hill
Sept. 7 at Clinton
Sept. 21 Poyen
Sept. 28 at Mountain Pine
Oct. 5 England
Oct. 12 at Quitman
Oct. 19 at Cutter Morning Star
Oct. 26 Magnet Cove
Nov. 2 Bigelow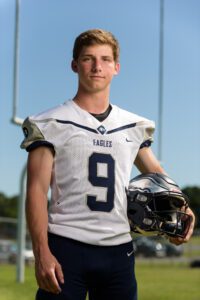 501 Football Team '18
Jacob Wood
Classification: Sr.
Position: QB
On the field: High character, consistent leadership.
Off the field: Good student, treats everyone with kindness.