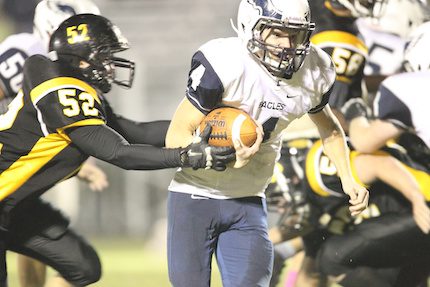 12 Aug 2014

Conway Christian: Eagles eager to put speed, experience to work in 2014

Conference: 5-2A
Coach: Michael Carter
'13 Record: 6-6 (4-3)

If you just base success off of a team's record, then the Conway Christian Eagles took a step back in 2013. But in a lot of other ways, the Eagles excelled and even made school history. The Eagles fell back some in the conference standings, finishing fourth in the 5-2A on the way to the playoffs.

That's where Conway Christian achieved something it had yet to do — winning a road playoff game. The Eagles took out Walnut Ridge before falling to Carlisle in the second round.


"It was a very good season, due in part to great senior leadership," Coach Michael Carter said. "We were able to win a playoff game on the road for the first time in school history."
While the Eagles were young at several positions last fall, that experience will turn into a strength for Carter's squad this year. Sixteen starters return — eight on each side of the ball.

Jakob Henry takes over at quarterback. He'll be joined in the backfield by running back Ancil Lea. The Eagles are deep at wide receiver with Seth Smith, Jon Mark Wood, Clayton Dent and Casey Roark. Carter Bramlett, Carter Free, Chase Kehler, John Clay and 501 Football Team honoree Noah Bowman round out the offensive line.

"Bowman was second on the team in tackles with 98 and started every game at guard," Carter said. "He is a great player but an even better person. He puts others first and is a good role model for our younger athletes to follow.
"We expect to be explosive on offense. We have speed and experience."

The Eagles will look to many of the same players to lead the way on defense, too. Such is the life of a 2A program. Free will see time at defensive tackle. Kehler also plays linebacker.

"We will be very physical on defense," Carter said. "Our weakness is a lack of depth."
The Eagles face an always-tough 5-2A. Five teams had conference records above .500 last fall.

"It's a very good conference and it will be a battle every Friday night," Carter said.