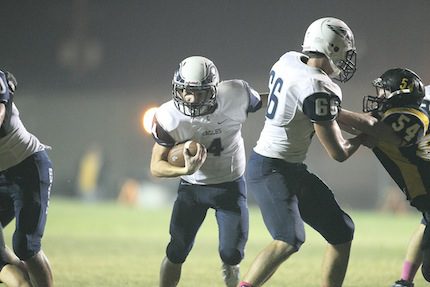 11 Aug 2013

CONWAY CHRISTIAN: Eagles aim for more playoff success

Conference: 5-2A
Coach: Michael Carter
2012 Record: 8-4 (5-2)


The Conway Christian Eagles sure were fun to watch in 2012 as the team posted its best record since moving to AAA football in 2008. Even better, the school notched its first playoff win with a 40-32 victory over McCrory in the first round of the playoffs.

Conway Christian and Magnet Cove collided in Week 9, both with perfect conference records. The Eagles held an 11-point lead in the third quarter, but the Panthers proved too resilient, overcoming two deficits late in the game to take the win, 43-39. An equally devastating loss followed the next week, 41-38, to Bigelow.


But the Eagles found a way to shake off the losses and take that first playoff victory against McCrory before falling again to Magnet Cove in a rematch in the second round of the playoffs.


The Eagles graduated some huge numbers in May in quarterback Tanner Stevenson (501 Football Team 2011) and receiver Andrew Dather. Senior Chandler Ferrand moves to quarterback this fall after posting an all-conference season at receiver in 2012. Senior Ancil Lea will take over a full workload at running back, and junior Noah Bowman and senior Caleb Dather lead the offensive line.


Dather, who was named to this year's 501 Football Team, is a three-year starter at left tackle and also starts at defensive end.


"Dather led the team in tackles and was named all-conference and all-state [last year]," Coach Michael Carter said.


Juniors John Clay and Lance Holden fill out the defensive line. Juniors Casey Roark and Chase Kehler lead the way at linebacker and senior Byron Pascoe returns at cornerback.


Schedule
Sept. 6 at Episcopal
Sept. 13 Cedarville
Sept. 20 at Rose Bud
Sept. 27 at Poyen
Oct. 4 Mountain Pine
Oct. 11 at Mount Ida
Oct. 18 Quitman
Oct. 25 Cutter Morning Star
Nov. 1 at Magnet Cove
Nov. 7 at Bigelow


501 Football Team 2013 –
Caleb Dather
Nominated by Coach Michael Carter
Classification: Senior
Position: OL/DL
On the field: Smart, aggressive, great instincts.
Off the field: High character, servant.
Community work: Active in youth group and service projects.
Sportsmanship: His character is displayed to all who watch. He's a servant-leader.
Expectations: Provide leadership, all-conference and all-state.