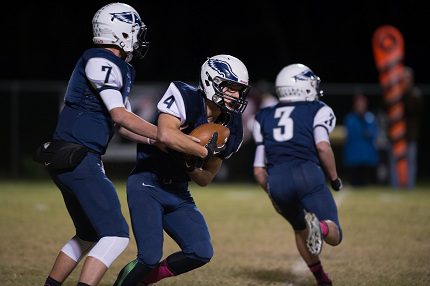 05 Nov 2014

Conway Christian clinches conference; soars into playoffs

by Mark Oliver


It was a night to remember for the Conway Christian Eagles, filled with many firsts: the Eagles' first win over conference-rival Magnet Cove and the first football conference championship in school history.

For Eagles play-by-play announcer John David Smith, it ranks as the biggest game he's ever called.


"It's been a great ride," Smith said. "In my seven-year experience with Conway Christian football, most everybody felt that this was, overall, the best team we've ever had, and that's the way it has played out. Our line and skill players have played exceptionally well. If you take our solid senior class and mix it with our sophomore class, coming off a district championship last year, it's meshed really well into a very good football team for a Class 2A private school."


The game had the makings of an instant classic. The Panthers — winners of the past three conference championships — lit up the scoreboard early.


"Magnet Cove has a great football tradition with great coaching and good kids," Smith said. "They had a nasty game plan where they methodically and systematically used ball control to their advantage. Nothing flashy — they just controlled the ball during the first half and kept our offense off the field."


Trailing at halftime, the Eagles rose to the challenge in the second half and held Magnet Cove to just 14 yards, offensively. It ended up being the momentum boost the Eagles needed to make the comeback.
"In the second half, Conway Christian did not allow Magnet Cove to have a first down," Smith said. "The Eagles managed 123 yards of offense in the third quarter alone and were able to tie the game near the beginning of the fourth quarter."

Late in the fourth quarter, with the game tied, the Eagles intercepted a Magnet Cove pass and were given an opportunity to try for a game-winning drive.

"Conway Christian got a big punt from near midfield that was downed on the 1-yard line," Smith said. "That forced Magnet Cove to play deep out of their own end zone. On third down, we got a lot of pressure on the quarterback and he lofted one up off his back foot and we intercepted it and ran it down to their 14-yard line."

From there, the Eagles relied on their kicker, senior Josiah Smith, to attempt the go-ahead field goal.
"There were a lot of storylines in this football game," Smith said. "It was a fairytale situation for Josiah because he had torn his ACL three times in his football career and has been kicking for the team with a torn ACL. With less than four minutes to play, he came in and kicked a 35-yard field goal that ended up being the deciding factor."

With the win, the Eagles secured not only the school's first conference championship in school history, but also guaranteed a first round playoffs bye and home-field advantage throughout the playoffs.
"It was an extremely special moment for all of us," Smith said. "The celebration after the game — with the coaching staff, the parents, the students — it will be something I'll always remember."
The conference championship is the school's sixth this year, with Conway Christian also earning conference championships in boys' and girls' golf, boys' and girls' tennis and volleyball.

"One thing that people may not know about this school is that we go back-and-forth with a couple of other schools as the smallest football-playing school in the entire state," Smith said. "That says a lot about what the coaches have to work with, but yet these kids remain competitive. We have had some teams in the past that have had some outstanding football players and some of them are playing at the next level now."

Despite locking up the title, the Eagles still have much to play for as the Eagles play host to Bigelow Thursday at 7 p.m. to close out Class 5-2A conference play.

"Bigelow has always been one of Conway Christian's bigger rivals in football," Smith said. "Offensively, they're a tough ground-and-pound team. Defensively, they are usually really fundamentally sound. Because of these factors, Bigelow is always competitive. Going undefeated in conference play would be a great thing for the kids. To not only hang the banner but say they were also undefeated in conference play would be big for them."

Following Thursday's game, the Eagles will get a week of rest before hosting a second-round playoff game against either Des Arc or Bigelow.

"I think that we will be very competitive in the playoffs," Smith said. "We're going to line up and do the best against we can, no matter who we face."