Over 700 were in attendance at the 2009 annual meeting of the Conway Area Chamber of Commerce, held March 5 at Hendrix College.
The banquet offered an opportunity to look back on the community's accomplishments in 2008, including the announcements that Hewlett-Packard and Southwestern Energy Co. would be locating facilities in Conway.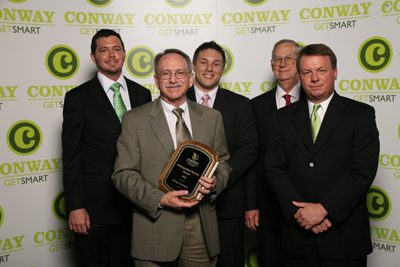 Following comments by Mayor Tab Townsell and a welcome by Dr. J. Timothy Cloyd, president of Hendrix College, Gov. Mike Beebe introduced the guest speaker for the evening, Michael J. Holston, executive vice president and general counsel for HP.
Also at the event, Cory and Jill Imboden, honorary co-chairmen for Toad Suck Daze, presented the T-shirt design for the 2009 festival.
The chamber also presented awards to outstanding individuals, businesses and organizations.
The chamber's Distinguished Service Award, inaugurated in 1957, was presented to George Covington Sr. – a man whose family has long been synonymous with Conway.
In 1923, his grandfather began their family business. In 1970, he joined his father in the business and eight years later became the president. With hard work and dedication, he grew the company, Covington Roofing, into one of the largest and most successful in the state In 1983, he formed a commercial property business and a construction and equipment business. Since that time, he has been vital in the development and redevelopment of various buildings and properties throughout Conway.
With a knack for taking what was once considered old and hopeless, he has given new life to countless properties throughout Conway. In fact, he has redeveloped and revitalized approximately 200,000 square feet in Downtown Conway and another million square feet in the remainder of the city.
Other awards included:
Outstanding New Business: 501 Advertising and Publishing
"501 Advertising and Publishing published its first magazine in April 2008 and brought a new product to the Conway Marketplace," said Andy Hawkins, chamber board chairman in making the announcement. "Each month they bring a quality of life publication to thousands of readers in Conway and throughout central Arkansas. Just months after launch, the owners organized a new event with proceeds donated to the city's three colleges through the Chamber's newly established Toad Suck Daze GetSmart Challenge."
Small Business of the Year: Walk This Way
The store has been featured twice in one of its industry's most prestigious publications and Kym Schluterman, the owner, has given both time and money to various charitable causes, including donating over $5,000 worth of merchandise to the charity Soles4Souls.
Large Business of the Year: Freyaldenhoven Heating & Cooling
One of Conway's most recognizable names, the business has provided reliable service and support for nearly 40 years. A family-owned business, Freyaldenhoven is considered a fixture in the community.
Outstanding Industry: Kimberly Clark
One of the largest manufacturing operations in Faulkner County, Kimberly Clark represents one of Conway's earliest economic development achievements. Hawkins noted that the 500-plus employees make a significant impact on the economy of the region, with thousands of hours of time devoted to volunteer endeavors.
Outstanding Young Business Leader: Philip Shell
A native of Conway and graduate of Hendrix College, Shell has given countless hours to a variety of charitable organizations in town. When not working as a loan officer for First Security Bank, he is an active member of the Conway Kiwanis Club as well as First Presbyterian Church.
Small Business Person of the Year: Dr. Christine Hurley
Described as an amazing leader and a superb business woman, Dr. Hurley has served as a mentor to many in her field in both her discipline and the art of running a small business.
Business Executive of the Year : Scotty Bell with Virco Manufacturing
Bell has been with his employer for over 20 years, serving as corporate vice president and general manager of the Conway division. He serves on the board of Conway Corp. and served on the boards for the United Way of Faulkner County and the Faulkner County Day School. While at the helm of one of Conway's largest employers, the company was named as one of EPA's first three "mentor organizations" in their Waste Watch Program, continuing the company's tradition of environmental stewardship. Bell's corporate office wrote, "We can cite many highlights and accomplishments of the Conway Division under his leadership, but the common theme that unites them all is teamwork. He is the ultimate team leader, team player, team coach and team cheerleader. He has kept manufacturing jobs in the U.S. at a time when that wasn't thought possible."
Get Smart.Go Green Initiative: Conway Sanitation Department
The new award was presented to Conway Sanitation Department, which is upheld as a leader in Arkansas as to how to successfully implement a recycling program.
Good Neighbor Award – Fletcher and Sherry Smith.
Fletcher Smith has served in many volunteer capacities over the years including a seven-year term on the Conway Corp. board of directors. Sherry Smith also served on several boards of directors including the Conway Downtown Partnership, where she was a founding member.