07 Mar 2022

Conway Area Leadership Institute graduates 35

Posted at 8:02 PMh

in

News

The Conway Area Leadership Institute graduated 35 in its 2021 class and recognized several honorees in a ceremony at the University of Central Arkansas McCastlain Hall on Feb. 25.

CALI is a 10-month program that prepares emerging leaders to serve the Conway community by providing first-hand experience with community leaders, businesses, and local organizations. Participants engage in a curriculum inspired by Conway2035, a long-range strategic plan developed with the input of more than 1,800 area residents.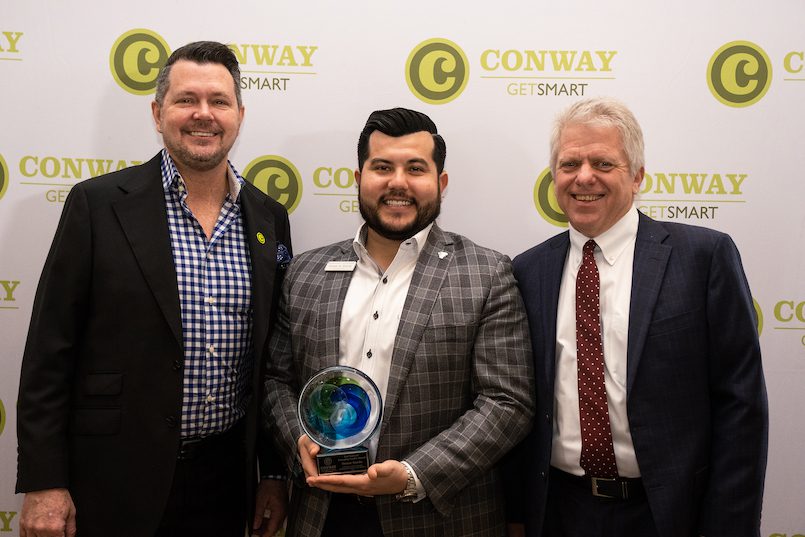 Osmar Garcia, CEO and co-founder of Garcia Wealth Management, received the Dan Nabholz Emerging Leader Award, which recognizes a recent CALI graduate for leadership and community involvement.
Garcia serves on the Conway Health Facilities and Conway Symphony Orchestra boards. Garcia is also vice president of Opportunity Matters Arkansas and serves as the Hispanic coordinator for the Knights of Columbus State Council. He is a previous chair of the United Way of Central Arkansas.
Nick Stevens was named Class Champion of the 2021 class. The award recognizes one individual for contributions to the group throughout the year. Stevens serves as program director of the Creative Institute of Central Arkansas where he oversees curriculum, partnership and program development.
Stevens and fellow 2021 class member, Karla DeFreitas, were added to the CALI Advisory Board, which provides feedback on curriculum and program structure.
The 2021 class is already taking action to help create a better Conway by raising funds for an exam room in the new Children's Advocacy Center, an outreach of the Children's Advocacy Alliance, for its community impact project. This new exam room will allow the center to provide forensic interviews for child abuse victims in a safe and supportive environment and support throughout the court process through a Court-appointed special advocate.
Currently, the class has raised more than $8,000 of a $15,000 goal. The community impact project will culminate in a lunch celebration at Children's Advocacy Alliance at 574 Locust St. on March 11 with several local banks serving hamburgers and hotdogs. For more information on the fundraiser celebration, click here.
Donations can be made online, at the Children's Advocacy Alliance office, or in-person at the March 11 lunch.