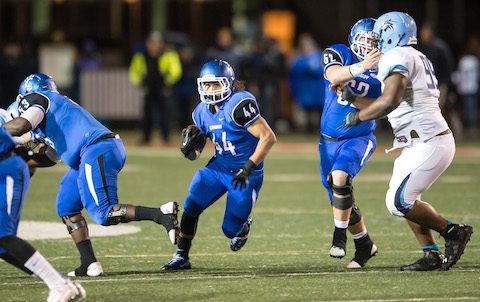 26 Nov 2013

Conway advances to semi-finals

by Levi Gilbert


The Conway Wampus Cats broke a 10-year drought last week with a 52-42 win over Springdale Har-Ber, returning to the semi-finals in the 7A for the first time since 2003.

It was a game that Conway Corp play-by-play announcer Jeff Matthews ranks up there with some of Conway's most memorable.


"There are two games that come to mind when I think of comparable games as far as excitement goes," said Matthews this week on KUCA's The Sports Beat. "They were both playoff games. Back in 2003, the quarterfinal win that year was a win over Russellville. For years that game has been a rivalry, but back then it was really big. When Conway won that night 49-48, they won by going for two in overtime. That one comes to mind. But just a few years ago against Fayetteville, we beat the Bulldogs 45-42 on a last second touchdown pass from Xavier Acklin to Tristan Eddings.


"What was unique about Friday night was that we went up by 14 so quickly. The momentum swings in this game were just unlike anything I remember."


Sophomore quarterback Breylin Smith led the charge for the Wampus Cats, throwing for 335 yards and four touchdowns.


"Breylin has played with a lot of poise all year. There are moments that he's played like a sophomore, and that's to be expected. There are a whole lot of other moments where he does not," Matthews said. "That's what impressed me most — his ability to shake off disappointment. He had a few balls that should have been caught that were dropped. He didn't shrug his shoulders; he didn't drop his head. He stayed focus and in the moment.


"It was as impressive a performance as I've seen from a quarterback. Add the fact that he's a sophomore, add the fact that they had lost four straight years in the second round and add the fact that they haven't been to the semi-finals in 10 years — since he was 5 years old — it was an amazing performance."
Although the Conway defense gave up 42 points at home, Matthews says he was impressed by the Wampus Cat D.

"We gave up 42 points and 500 yards of offense, but the defense played great," he said. "And you think, how does this add up? It adds up because both offenses were just playing so incredibly. In the fourth quarter, the defense pitched a shutout. All 42 points they gave up were in the first three quarters. When the rubber met the road, they did it in the fourth quarter. They never got intimidated."

The Wampus Cats travel to Bentonville this Friday with a trip to War Memorial on the line.

"You have to go up there and realize that it's 11 on 11. Our 11 guys match up with any 11 in the state," Matthews said. "Our two losses this year have been to the two teams that have been ranked No. 1 and No. 2 in some of the polls — Cabot and Greenwood. We've proven to ourselves that we can match up. This isn't a Cinderella story. Bentonville has traditionally been one of the best in the state. But so is Har-Ber, and we knocked them out. So is Greenwood, and we came within two seconds of beating them. I think they believe in themselves.

"This is going to be a great game Friday night."