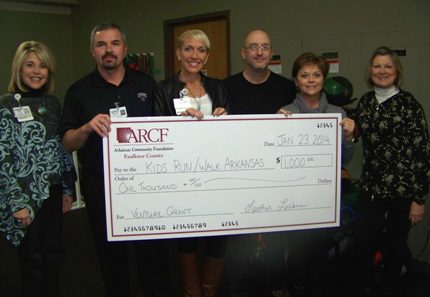 05 Feb

Community Foundation Grant helps fund youth exercise program

The Faulkner County Community Foundation has awarded a $1,000 grant to the Conway Regional Health Foundation to help fund a program that encourages elementary school students to become physically active.

The Before/After School Run Walk training program – which will be offered twice a week to elementary schools throughout Faulkner County – is coordinated by the Conway Regional Health and Fitness Center.


Julie LaRue, executive director of the Faulkner County Community Foundation, said the Community Foundation grant is part of a more proactive approach the agency is taking.


"It's a new venture for us; we are striving to be proactive in the community. This is about grassroots philanthropy, going and finding the needs," LaRue said. Health and wellness is one of four areas that the Community Foundation taskforce is focused on. "Our taskforce felt like the Conway Regional program is one of those opportunities for us to make an immediate difference for the young people in the community."


Proceeds from the grants will help purchase supplies for the Conway Regional Health and Fitness Center's efforts to fight obesity among children by promoting physical activity.


Reducing childhood obesity is one of the needs that Conway Regional Health System identified during its community health needs assessment of Faulkner County in 2013.


"Our 10-week program is designed to meet the physical activity goals outlined by the United States Department of Agriculture with emphasis on developing a healthy lifestyle and making exercise fun," said Amanda Castillo.


Castillo and Mallory Lefler, who are personal trainers at the fitness center, lead a group of personal trainers who will travel throughout the county for the 10-week training program. Castillo is an RRCA certified running coach.


The weekly lessons include concepts of walking/running, warm-up, cool down and stretching. Age appropriate activities are incorporated for the walk/run portions of the program.


The program takes place Monday, March 10, through Friday, May 23, after successful pilot programs in 2013 at St. Joseph, Ida Burns, Conway Christian and Carolyn Lewis elementary schools.


Matt Tucker, principal of St. Joseph Elementary School, said the Conway Regional Fitness Center staff provided structure for the school's running club.


"The parents really appreciated the fact there was a definite agenda for the day. They knew what was going on and appreciated the technical aspects such as teaching the kids the proper way to stretch. It was very structured." He added that the 10-week program gave the school "a good foundation and enabled the parents to move forward with our running program."


Tucker observed for the first time that students were asking to run lap races during recess. "There was carryover into their free play time and at school," he said. "We are very excited that they will be coming back and are very appreciative of the first semester."


This year, the fitness center is planning to add Ellen Smith Elementary School and is in the process of reaching out to several other outlying schools. The long-term goal of the Before/After School Run Walk training programs is to serve all 17 Conway area elementary, intermediate and middle schools.


Based on the 2009-2010 Arkansas Center for Health Improvements Assessment of Childhood and Adolescent Obesity in Arkansas, 34.8 percent of Faulkner County children are overweight or obese. In addition, according to the 2012 County Health Rankings, Faulkner County is expected to see a 3.17 percent – 5.19 percent increase over the next three years. It is believed that children who are overweight are more likely to become overweight in adulthood. Obesity can lead to diabetes, high blood pressure, heart disease and many other health problems.


As Faulkner County's community hospital, Conway Regional Health System is committed to help fight the obesity epidemic by focusing on our children and helping to reach the problem early through targeted and measurable programs for children and their caregivers.