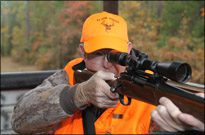 30 Jan

Comments sought on hunting seasons

The annual public meetings concerning the state's hunting seasons have passed, but there's still time to send any comments or concerns to the Arkansas Game and Fish Commission.


Just visit http://www.surveymonkey.com/s/2013-14HuntRegsComments to take a quick online survey.


The following considerations are being surveyed for the 2013-14 season:

Change the checking time from 24 to 12 hours for bear, deer and turkey.

All cervid carcasses entering the state must follow cervid carcass importation restrictions. This will include all states, Canadian provinces and countries not currently listed in the code.
Implement 12-inch inside spread or 15-inch main beam length antler restriction on Dr. Lester Sitzes III Bois d'Arc, Hope Upland, McIlroy Madison County, Scott Henderson Gulf Mountain and Shirey Bay Rainey Brake WMAs.
Implement 15-inch inside spread or 18-inch main beam length antler restriction on Dave Donaldson Black River WMA.
Change the WMA deer permit process from two drawings to one and extend the payment period from two to four weeks. Permits not paid for will be available for purchase online.
Include deer zone 3 in the private lands antlerless only modern gun deer hunt.
Modify boundaries of deer zones 11 and 13.
Allow the harvest of one doe in deer zone 11 for the entire muzzleloader and modern gun seasons.
Prohibit mentors from carrying firearms for their hunting purposes during any youth hunt.
Re-instate the bear quota for zone 2 of 150 (125 for October and 25 for November).
Move the opening day of bear archery season in bear zone 2 from Sept. 15 to Oct. 1.
Allow squirrel hunting with dogs except for the first nine days of modern gun deer season on Ozark National Forest, Piney Creeks and White Rock WMAs.
Written comments may be mailed by Thursday, Feb. 28, to the AGFC, Attn: Hunting Regulations Proposals, 2 Natural Resources Drive, Little Rock, AR 72205.