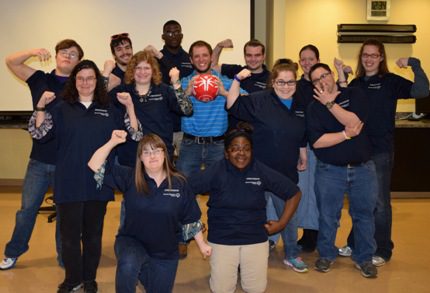 04 Feb 2015

Cody Kelley, Special Olympics announce unique partnership

Cody Kelley, FLW Pro, has selected Special Olympics Arkansas (SOAR) in a unique twist to the major sponsor role.

Typically, a major sponsor is the business giving the most monetary support. In this instance, the major sponsor is a non-profit with so much to gain from this partnership. Cody will act as a spokesperson and athlete advocate, building awareness for the goals and challenges, as well as raising funds of the athletes of Special Olympics Arkansas.


"I personally believe that my competitive drive began the day I was born," said Cody. "All of my earliest memories consist of some type of sporting competition. I was introduced to the world of fishing at a very young age by my parents and was allowed many opportunities to chase fish around local ponds at events that were organized by the Cub Scouts of America. Although no one in my family fished competitively, they did succeed at instilling me with a very strong work ethic, along with the belief that absolutely no dream or task is impossible to reach.


"I began my competitive fishing career while attending Arkansas Tech University in 2008. Over the next six years, I continued to follow my dream of becoming a true professional fisherman. When I finally reached a point in my career where I was ready to take the leap to compete with the world's best anglers in the Walmart FLW Tour, I began to remember the long road that I had travelled to get to that point. Of course, that road offered many speed bumps, but also many people helped me in many different ways.


"While knowing that I could never have come close to reaching my dream without these people, I also recognize the fact that there are thousands more people out there that have lifelong dreams as well. With this thought, I began brainstorming of ways that I could give back to the Arkansas community in a way to help others reach their competitive dreams."


Cody's mother has been a longtime supporter of the Arkansas Special Olympics. "I have been able to see firsthand just how hard these athletes work toward their events. The amount of hard work, dedication and tenacity displayed by these athletes equals if not surpasses that of other professional athletes. I believe that these qualities should always be supported and rewarded.


"All athletes need sponsorship, including myself. This year, I want to represent more than a product. I am embracing the Special Olympics movement. When given the unique opportunity to partner with the Special Olympics Arkansas, I knew that it was the chance for me to do my part in raising awareness of all the great things that this organization does to help their athletes reach all of their competitive dreams. I want to honor their achievements and bring support to their competitions and events the way others have supported me. I feel honored to represent the athletes of Special Olympics Arkansas."


Cody has committed to donating a portion of all sponsorships to Special Olympics Arkansas along with his time in building awareness. 2015 is already stacking up with several events and activities surrounding the partnership.


"We are very excited to be aligned with Cody Kelley for 2015; from the minute Cody approached Special Olympics Arkansas about this unique idea, the energy surrounding it was powerful. SOAR Athletes are excited to cheer him on throughout the tournament season. Special Olympics Arkansas views him as 'our pro', and we are proud to be associated with such a wonderful person and such a respected organization," said Camie Powell, director of marketing and corporate relations for Special Olympics Arkansas.


Special Olympics Arkansas


Special Olympics Arkansas is an organization that unleashes the human spirit through the transformative power and joy of sport, everyday around the state. Through programming in sports, health, education and community building, Special Olympics Arkansas is changing the lives of people with intellectual disabilities and solving the global injustice, isolation, intolerance and inactivity they face.


Special Olympics Arkansas is providing opportunities for more than 15,000 athletes and 5,000 volunteers in all counties across the State of Arkansas.


The mission of Special Olympics Arkansas is to provide year-round sports training and athletic competition in a variety of Olympic-type sports for all children and adults with intellectual disabilities, giving them continuing opportunities to develop physical fitness, demonstrate courage, experience joy and participate in a sharing of gifts, skills and friendship with their families, other Special Olympics athletes and the community.


Four athletes and two Coaches from Arkansas have been named to Special Olympics Team USA. The 491-member delegation will represent the United States at the 2015 Special Olympics World Summer Games, being held July 25-Aug. 2, in Los Angeles.


The athletes:

Shakila Kirksey, 23, of Fort Smith will compete in the 100 meter dash, 200 meter dash and shot-put.
Waylon Brown, 20, of Forrest City will compete in the 800 meter dash and the 100 meter relay.
Bryson Williford, 23, of Rosie will compete in powerlifting. His events will be bench press, dead lift and squat.
Nathan McClain, 20, of Little Rock will compete in aquatics. His events will be the 50 meter butterfly, 100 meter freestyle and 50 meter freestyle relay.

David Thrift of Alma and Jerry Bridges of Washburn will be coaches for Team USA golf.