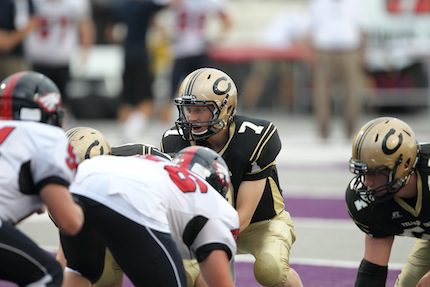 11 Aug 2013

CLINTON: Staying healthy key for Yellow Jackets

Conference: 2-4A
Coach: Chris Dufrene
2012 Record: 2-8 (1-6)


2012 was a tough year for the Yellow Jackets. After winning a conference title in 2010 and an 8-4 finish in 2011, expectations were high heading into last fall. But it just wasn't meant to be.

"We had too many injuries in key spots," Coach Chris Dufrene said.

Junior Fielder Dufrene returns at quarterback to orchestrate the Wing T. Dufrene gained valuable experience starting as a sophomore. Seniors Mason Speer and Stephen Sappington return in the backfield. Speer is a three-year starter. Senior Drew Farmer and junior Harrison Lester will both see time at fullback.


"Farmer played offense and defense [last season]," Dufrene said. "He started on defense most of the year. He will be a starting linebacker and defen- sive back and see lots of playing time at fullback [this season]."


Senior Robbie Slack and junior Hunter Blanton project as starters at receiver, and senior Kaleb Ward and junior Nick Sheets lead the way on the offensive line.


"Offensively we should be really productive," Dufrene said. "We've got a good group of skill players. Our defense returns about eight starters."


Ward and Sappington return at the end positions on the defensive line, and Alex Clark anchors the interior at tackle. Lester and senior Wyatt Fletcher lead the linebacker corps, and Slack, Speer, junior Nathan Teague, Dufrene and Blanton all see time in the secondary.


"If we can stay healthy, we can compete with any of the teams in the 2-4A," Dufrene said.


Schedule
Sept. 5 vs. Ark. Baptist
Sept. 13 at Highland
Sept. 20 Pottsville
Sept. 27 at Marianna
Oct. 4 Southside Batesville
Oct. 11 Dollarway
Oct. 18 at Stuttgart
Oct. 25 Newport
Nov. 1 at Heber Springs
Nov. 8 Lonoke


501 Football Team 2013 –
Drew Farmer
Nominated by Coach Chris Dufrene
Classification: Senior
Position: FB/LB
On the field: Gives 100 percent all the time.
Off the field: Always has a great attitude, always has a smile on his face.
Community work: Goes on youth mission trips.
Sportsmanship: High character on and off the field. Plays within the rules.
Classroom: Cares about others.