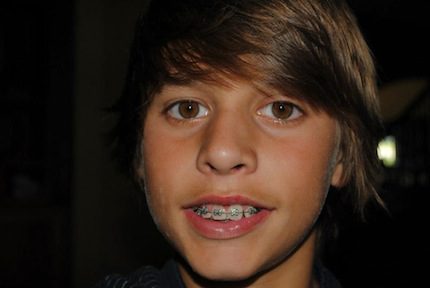 22 May 2013

Classmates remember Drake Walker with fundraiser for missions

by Donna Lampkin Stephens


Drake Walker started the school year at Ruth Doyle Middle School in Conway, and his friends and family are remembering him as the year winds up.
Walker, 12, died Sept. 1 in a freak accident when he drowned following heavy rains in the aftermath of Hurricane Isaac. He was swept away by rushing water in a drainage ditch.

On Saturday, June 1, the first Walker-Thon at Conway High School's John McConnell Stadium will raise money for the Drake Everett Walker Foundation to support missions locally and abroad.

Tim Cummins, one of the organizers, said the idea came from a group of Drake's friends, including his daughter Olivia.

"One afternoon six weeks ago we had a bunch of 12- and 13-year-olds sitting in our living room," Cummins said. "They wanted to do something in memory of Drake. I had directed races before, so they started kicking ideas around on what we could do."

Coincidentally — or perhaps not — Drake's family, who had christened the foundation on his birthday, April 28, had been thinking of having some sort of race as a fundraiser for missions.

"Early on, we had thought of the things Drake liked to do or we did as a family as fundraisers," Jamie Walker, his mother, said. "Things like a pumpkin-carving contest, a hoopsfest of some sort, a race. He loved to run, and he was looking forward to being on the track team. He loved pancakes; so a pancake breakfast would be a great fundraiser.

"Those are the things we're trying to focus on. We're planning on one fundraiser about every quarter. God is filling our hearts that we would feel comfort and still let Drake's legacy live on through these events. We'll still have some of him with us."

Drake's friends wanted to plan something before the end of the school year, and they settled on the Walker-Thon. Olivia Cummins came up with the name. Participants will pay a $25 entry fee and solicit pledges to sponsor their walk.
The event will run from 10 a.m.-noon. Little Rock radio station B98.5 will provide music; officials from K-Life and New Life Church, organizations Drake was involved in, will also be on hand. There will also be activities on the football field for those who wish to take a break from walking.

Tim and Sharon Cummins are event coordinators.

"So many of us in the community were heartbroken right along with them and wanted to do something tangible as part of healing," Sharon Cummins said.

She said many people were helping, among them Linda Nekonchuk, registration; Sherri Lachowsky and Todd Kendrick, sports activities; Sherri Hoover, Dena Oscar and Donna Valentine, sponsorship; Paul Swindle, Debbie Clark and Kimberly Porter, promotion; Jennifer Crain and Delta Beta Sigma sorority, Team Wild Hair/costume judging; Shannon Weber, Shannon Meyer, Laura Simpson, Lisa Fisher and Tammy Solberg, donations; and Robin Gattis, prayer team.

Following Drake's death, his parents, Jamie and Rodney, asked for donations to New Life Church's mission fund in lieu of flowers.

"We raised a lot more funds than what we needed and we decided maybe we could sponsor some other kids Drake's age, and then we decided as a family, 'Why don't we just start a foundation in honor of Drake?'" Jamie Walker said.

According to di4d.org (Do It for Drake), "Our No. 1 goal is to spread the Gospel of Christ throughout the world while remembering our precious son . . . He had a love for others and a heart for Jesus. We push forward with the assurance of knowing that we will be reunited with Drake in heaven one day. All proceeds will be used to further the Kingdom of God through local and global missions."

The Walker-Thon is the first official fundraiser for the foundation, Tim Cummins said. Drake had planned to go on a mission trip to Haiti this summer with his family, and his friends remembered that, "so they said, 'Let's see what we can do to raise money to go toward a mission.'"

Numerous Conway businesses have donated door prizes, including gift certificates to local restaurants and bike helmets from The Ride. For every $25 raised, participants will have their names thrown into the hat for the drawings.

"We're hoping it's going to be really nice weather and we'll hang out for a couple of hours," Tim Cummins said.
Jamie Walker called it "a God thing" that Drake's friends planned something so similar to her family's ideas.

"God did put them in our path," she said. "It's going to be a wonderful event; the kids are excited about it. They knew Drake and his love for sports. They want to be part of something big and part of raising money for missions and seeing the influence they can make in people's lives, too."

Registration for the Walker-Thon will open at 8:30 a.m. June 1. For more information, call Tim Cummins at 501.339.7610 or e-mail [email protected].

"Our goal is to do this again next year but have more than four weeks to plan it," Cummins said. "We were real concerned about that. We might have 15 people out here or there might be 200, but we'll get it kicked off and have something to build on for the coming years."

Jamie Walker said her family had found comfort in the foundation's mission.

"It's really the only way we know how to deal with (the loss)," she said. "That's just the way God works. He always takes things that Satan may have meant for harm and turns them to His good. The only way we can draw strength is to bring honor and glory to God."