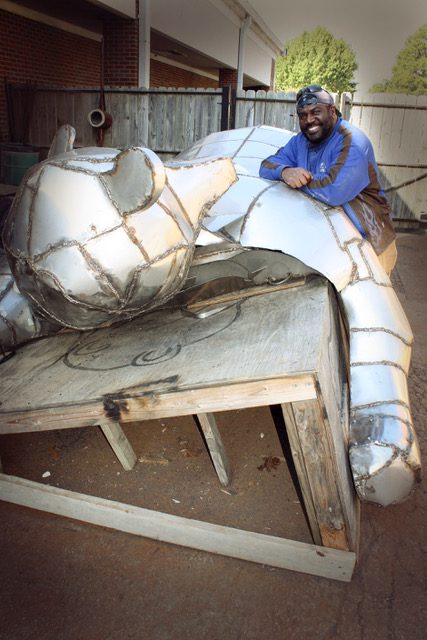 17 Feb 2018

City Talks launches with UCA's Bryan Massey

Posted at 10:41 PMh

in

News

Art on the Green has selected UCA professor and sculptor Bryan Massey to launch the Gallery's series of City Talks. City Talks is a speaker series of authentic, stimulating discussions with sincere, honest, real people. The first in a series is scheduled for 5:30 p.m. Friday, Feb. 23, at Art on the Green with Moderator Darren Irby.


"Working with Bryan as an artist is always inspiring," said Brenda McClain, Art on the Green's Gallery Director. "Learning his story is an entirely different level of discourse. We knew immediately that Professor Massey was the person to kick off City Talks."

Professor Massey lost four fingers in an accident with a table saw while attending East Carolina State. He was unable to create art for 18 months. Homelessness two years after the accident only made Massey more determined never to give up. There were days at a time he did not eat, yet he did not steal. "I'd rather go hungry than steal."


Massey also had challenges when he was first at UCA when he objected to a clause in the university's constitution that stated it was established for the education of white people. Massey emphasizes he had the support of the administration and UCA Police even though the FBI was called in. He had to send his family to North Carolina during this time.


Massey is an Internationally-known sculptor; his work includes the Sidney S. McMath Memorial in Little Rock, the Silas Herbert Memorial in Fayetteville, along with works in Little Rock's Riverfront Park, CARTI Cancer Center's Sculpture Garden and the Grammy Music Hall of Fame. In Conway, his sculpture of "Otis" is on UCA's Donaghey Hall building.


Join the Gallery Feb. 23 at Art on the Green, Littleton Park-1100 Bob Courtway in Conway. Doors will open at 5 p.m., with conversation beginning 5:30, ending at 6:30. Massey will take questions at the conclusion of the conversation. For reservations call 501.205.1922 or log on to artonthegreen.net.