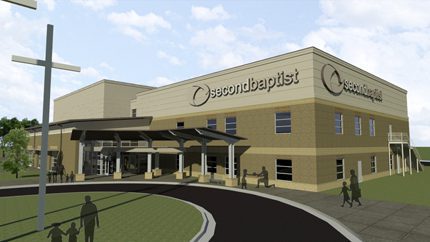 21 Dec 2012

Church is building on up

Posted at 8:41 PM

in

Faith

by Sonja J. Keith


Second Baptist Church in Conway has embarked on two major projects — a new worship center to serve its members and a ministry center that will serve the community.

"Second Baptist has a long history of growing with the community," said Mark Dance, senior pastor. "Since 1922 our church has held an unshakable conviction about growing the kingdom through creative ministry and missions initiatives. The completed relocation allows us to reach our community through both campuses."


The main campus for Second Baptist — which has about 2,000 members — is located at 701 Polk Street, a block south of one of Conway's major intersections at Oak and Harkrider streets. Next year, it will be located on Farris Road, making way for a ministry center on Polk Street.


WORSHIP CENTER


In 2002, the church membership voted to move, and the following year property in West Conway was purchased.


Members recently hosted a unique groundbreaking ceremony on the Second Baptist (2BC) west campus for the worship center. Children donned plastic hard hats and used shovels to turn the dirt, symbolizing the beginning of construction.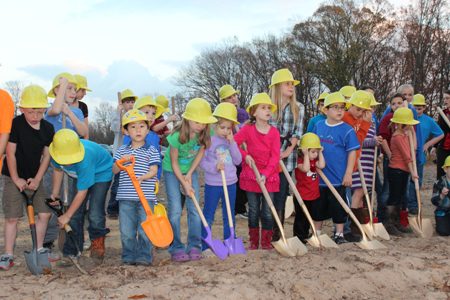 Dance said crews were a permit or two away from beginning construction on the worship center. The church is also entering into a $6.8 million capital campaign for the new construction.

"Over $400,000 in work underground — all utilities and dirt work — was done five years ago," he said. "It's ready."

The preparations for the building were made when 2BC constructed its campus ministries building on the Farris Road property. Initial plans were to construct the worship center first, with a campus ministry building scheduled in a later phase, but a generous gift from Felton O'Kelley, the property owner, prompted the church to switch the order.

Second Baptist purchased the 50-acre tract from O'Kelley, who Dance noted could've sold the prime real estate to other groups or businesses. Instead, he chose Second Baptist and also made a sizeable monetary donation toward the 14,000-square-foot campus ministry building. The gift was in honor of his wife of 70 years, Bobbye, who passed away in 2007.

Completed in August 2009, it is called the O'Kelley Student Center.

The 45,000-square-foot worship center — which will be located east of the campus ministry building — will include the sanctuary and community and children's education space. The O'Kelley home on the property is being renovated for church offices.

Second Baptist has a 365-day contract with Salter Construction for completion of the new building, so plans are to be in the new space by Christmas next year. Financing has been arranged with First Service Bank. Second Baptist is working with John McMorran of Lewis Architects Engineers.

With construction expected to be well under way come this spring, the church has already made plans to host its annual Easter egg drop at the University of Central Arkansas.

In advance of the dedication, the new building was mapped out with signage and members were invited to pray on the grounds. The two-story structure will feature a sanctuary that will seat 800 to 900, with expansion to 1,200 possible in the future.

"It will be nice, but it will be simple," Dance said.

MINISTRY CENTER

"Initially, we were going to sell (the existing church property) to use as the deposit for these buildings and property," Dance said of the Farris Road projects. "Last year, we decided to take it off the market and re-purpose it as a community ministry center."

Dance noted that the Polk Street property had been on the market for a while when Dwight Davis, a lifetime member and deacon of the church, came to him with an idea. "He asked, 'What if we don't sell it and we start dreaming about the possibilities?'"

Last fall, a handful of local ministers began meeting to explore the possibility of using the current property as a ministry center. Many were personal friends of Dance's that he had known for years.

Steering committee members include Rick Bezet (New Life Church), Cornell Maltbia (True Holiness Saints Center), Jason Aultman (Antioch Baptist Church), Ken Wilson (Fellowship Bible Church), Don Chandler (Central Baptist Church) and Larry White (director of missions for the Faulkner County Baptist Association).

The steering committee is multi-denominational by design, according to Dance. "We didn't want this to be Second Baptist only or Baptist only," he said, adding that the goal is for an "evangelical ministry center" that is distinctly Christian-based but does not promote one church over another.

As the group decides what services or programs will be offered at the ministry center, the current five-acre property may be repurposed.

"It's going to belong to the community," Dance said, adding the church sanctuary has
been the site for many a wedding, as well as funerals. He said while some spaces — like classrooms — may be altered to meet the needs of the ministry center, he anticipates that the sanctuary space will continue to be used. "If anything, it will be used more."

Last fall, organizers and church members got a glimpse of what a ministry center might look like and accomplish when the Soul Food Café moved its operations to Second Baptist after a fire destroyed its facility. "We got a preview of coming attractions," Dance said. "We got to open our doors to them."

In addition, Second Baptist began allowing ROK Church to use space in its facility for worship services each Sunday.

Dance described the new ministry as a "mall" with different opportunities for different groups. "We want to meet physical needs and spiritual needs."

Kyle Seal, associate pastor of college and missions at Second Baptist, has also been working on the project. "It will be a mission training ground for all of Conway. People are excited. We are doing it for Kingdom causes."

"It will be our primary local mission field," Dance added.

Dance points out that Second Baptist will have a seat on the board for the ministry center, but it will operate independently of the church. "The only place you'll see our name is on the deed."

While organizers are aware of other ministry centers, the Conway operation is unique because of the different denominations involved. "We haven't found evangelical churches coming together on the ground level," Seal said. "We can't find any models of this evangelical cooperative effort."

Dance has enjoyed the collaboration on the ministry center and is excited about what it represents for Conway.
"These guys are my friends, plus we have a whole campus to play with. It is very rewarding, not just for our neediest neighbors, but it transcends all denominational lines."

Dance said anyone in Conway will be able to go to the ministry center and find opportunities to be of service. "If you want to help our neediest neighbors, go downtown and we'll put you to work."

Seal points out that the steering committee has a "kingdom mindset" instead of a Second Baptist or individual mindset. "Mark has surrounded himself with pastors with the same heart and same mindset."

"We have to put away our logos and egos," Dance said. "It is a group of godly men who want to make that happen."

The different pastors have swapped pulpits at times. "If the senior pastor doesn't have the ego, tons of things can happen," Seal said.

"Our members love it when pastors love each other," Dance said. "We have to get used to it. That's the way heaven is going to be."

TWO SIDES OF THE COIN

So, as the construction of the new worship center is ongoing, plans for the ministry center will also be moving forward. "Both dreams can become a reality at the same time," Dance said. "It's been so much fun."

While having two major projects in the works simultaneously might create stress, Dance points out that it is not overwhelming. "So many people have stepped up who have caught the vision. It's bigger than me and our church. Both are historic."

Dance describes both projects as a coin — the new worship center on one side and the ministry center on the other. "The ministry center is the other side of the coin that makes it a complete vision," he said. "There's never been more on my plate, but it's never been more fulfilling. Both campuses will be set up to help Conway for years."