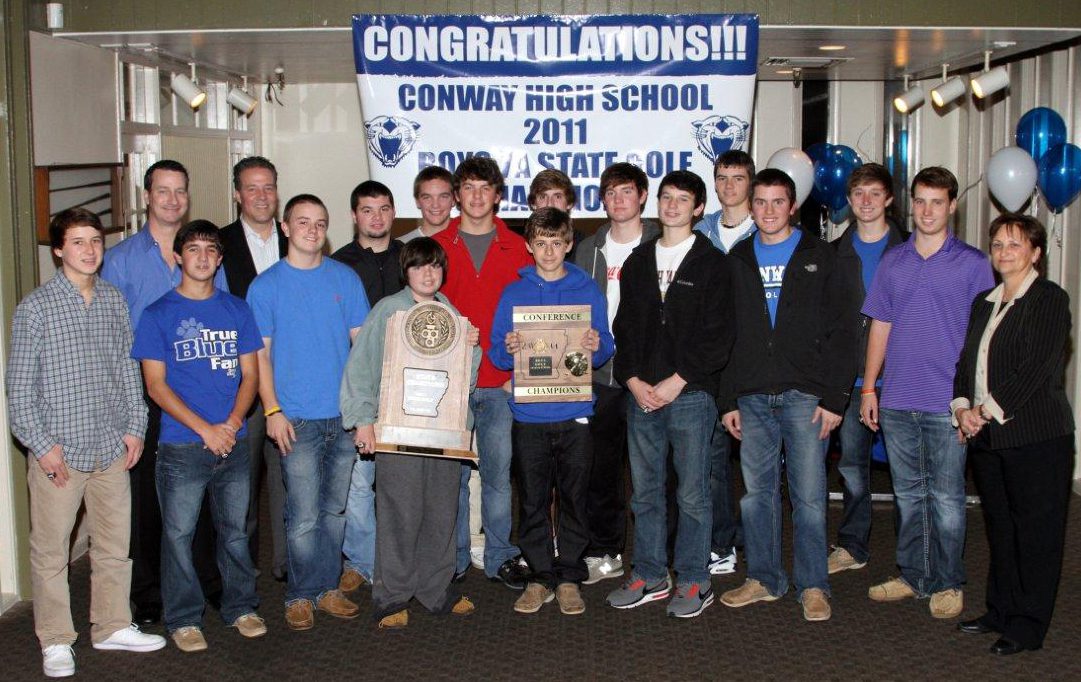 05 Oct 2011

CHS golf team presented championship rings

by Donna Lampkin Stephens


The Conway High School Golf Team recently celebrated its state championship season with a ring presentation ceremony at the Conway Country Club.


Each player was presented with a state championship ring sponsored by Steve Strange, Chris Crain and Todd Ross.


Conway High School won its fourth state championship of the calendar year when the Wampus Cats won the Class 7A state golf championship on Oct. 4 at Fayetteville Country Club.

Conway's previous state championships came in 2008 and '02 (under Taylor) and 1982 and '78 (under Joe Graham).


This was the first time the Wampus Cats had won their conference title since 2007.

Janet Taylor's team shot 299-292—591 over 36 holes, 13 strokes better than runner-up Bentonville (604). Fayetteville was third with 607, followed by Bryant, 615; Little Rock Catholic, 633; Cabot, 634; and Fort Smith Southside, 637. Conway teams had won state titles in wrestling in February, baseball and girls soccer in May.

Parker Rice was the low Wampus Cat, tying for third at 72-70—142, three strokes behind Zach Coats of Springdale Har-Ber (70-69—139). Brik Brauburger of Bentonville was second with 72-69—141. Rice tied with Austin Morey of Bentonville and Tyler Green of Bryant.


Morey won a two-hole playoff to earn the final berth in the upcoming Arkansas High School Overall Championship, which pits the top three players from each state tournament against each other at Little Rock's Pleasant Valley Country Club.


Conway's Tyler Pinney shot 74-70—144. Other Wampus Cat scores included Tim Netherton (72-75—147); Chase Netherton (82-77—159) and Tanner Bezet (81-79—160).


"This really mirrors when we won in 2008," said Taylor, in her 12th season as the CHS golf coach. "There was not a superstar, just depth. That's the key, and I told the guys that when we started."


The depth included all 15 players. Pinney and Tim Netherton are seniors, as is Blake Darnell. Rice, Chase Netherton and Bezet are juniors. Other juniors on the team are Austin Smith, Carson Roberts, Austin Tate, Mason McAlexander, Taylor Bacon and J.P. Wade. Sophomores include Lincoln Hill, Josh Walker and Luke Baker.


"They push each other every day," Taylor said. "You can't afford to take a day off or not be on top of your game because somebody will slip into your spot. The majority of them worked their tails off all summer and had to work extremely hard to have a spot.


"We had eight guys who could've played in the state tournament."


The Lady Cats, conference champions the last eight years, finished runner-up at state to Fayetteville. Summar Roachell won her third consecutive individual Class 7A state title.