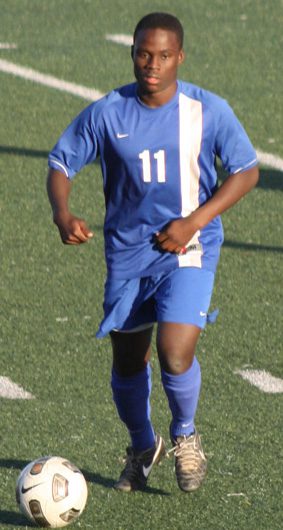 11 May 2012

CHS boys soccer team wins in PK shootout

The Conway Wampus Cats boys soccer team advanced to the second round of the state tournament Thursday night with a win over Rogers Heritage High School in Fort Smith.
Heritage opened the scoring with a goal in the 18th minute with an attack through the middle of Conway's defense. Less than a minute later junior Logan Hampton broke free with a chance to score but was tackled from behind in the box and earned his team a pentalty kick. Senior Garrett Todd stepped to the line and completed the kick to even the score at 1-1.

The first half saw both teams having chances to score but not able to get the elusive goal.

During the second half, Conway came out with a plan of attack and control and was trying to catch Heritage in one-on-one situations to get the go ahead goal. But just like in the first half, Rogers struck first and was able to score and go ahead at the 55 minute mark on the clock. The Cats rallied and less than a minute and half later senior Michael Anthony played a beautiful pass to the feet of Hampton and he found the back of the net to even the score at 2-2.

The Cats were still playing without senior goal keeper Hector Saenz. Sophomore Kwan Tolbert was put in goal and played a very good game. When regulation ended, the teams moved into two overtime periods of 10 minutes each with the "golden goal" (first team to score wins) in effect. Both teams had opportunties to score and end the match but neither found their goal.

When the final overtime ended, both teams lined up for pentalty kicks. In a surprise move, Conway chose to change its keeper to freshman Matthew Cummins who played the entire game and both overtimes as a center back. Heritage's keeper was a tall, athletic young man and it appeared that he would give them the advantage over Conway.

Each team would be given five shots and if still tied then they would move on until one team won. Cummins not only scored on his shot, he blocked the last shot that Heritage was given which sealed the win with a 2-1 advantage.

It has been two years since the Conway boys soccer team has won an opening round tournament game.

The Wampus Cats will play Bentonville – the second team from the 7A West – at 4 p.m. today (May 11) in Fort Smith. If they win this game, they will play the winner of Little Rock Catholic and Fayetteville at 6 p.m. Saturday (May 12) in the semi-finals.