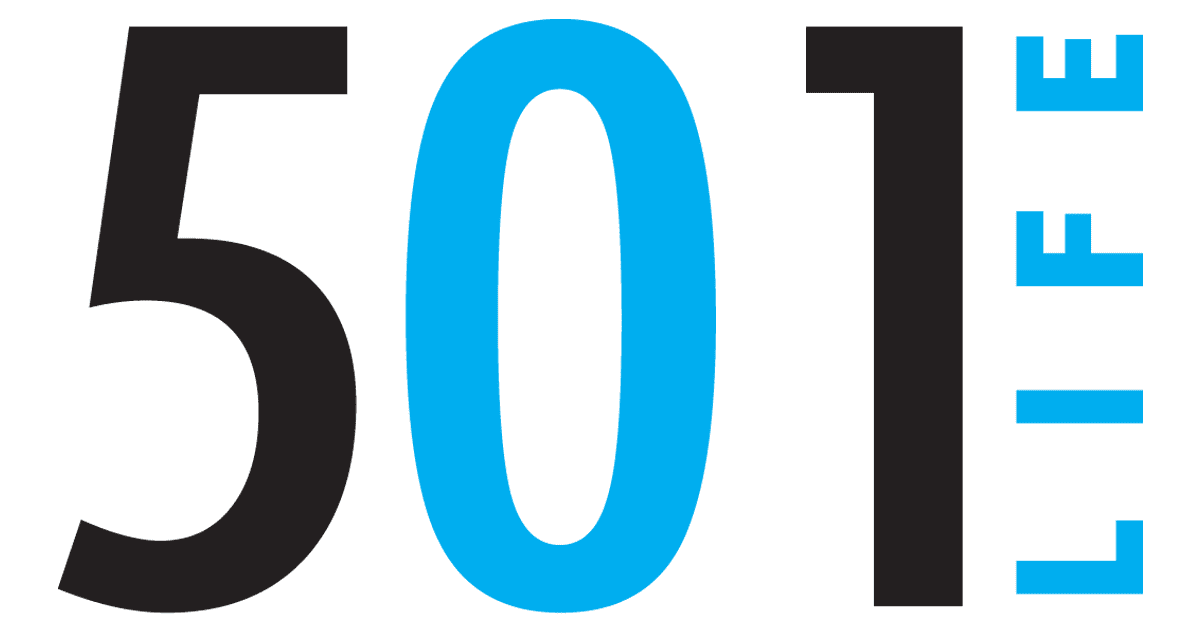 18 Nov 2017

Christmas in the 501

There will be no shortage of opportunities in the weeks ahead to celebrate the Christmas season in the 501.


Many communities will participate in their annual Christmas parade with floats of all shapes and sizes. Churches, too, will host special events.


Here is a sampling of the festivities that the 501 has to offer.

CHRISTMAS PARADES


The Greenbrier Christmas Parade is planned 6:30 p.m. Thursday, Nov. 30. Lineup will begin at 5:30 p.m. "Jingle Bell Rock" is the theme for this year's parade. For more information or to register, visit greenbrierchamber.org or call 501.679.4009. In the event of rain, the parade will be moved to 5:30 p.m. Monday, Dec. 4.

The Searcy Holiday of Lights Christmas Parade is scheduled 6 p.m. Saturday, Dec. 2. The parade will begin at Spring Park, circle the White County Courthouse to Race Avenue and end at Berryhill Park. No registration is required.


The Maumelle Christmas Parade is planned 3 p.m. Saturday, Dec. 2. Presented by the River Park Civitan Club, businesses, schools and groups interested in signing up should call 501.920.4298. There is a $25 entry fee.


The Annual Morrilton Christmas Parade will be held at 5:30 p.m. Thursday, Dec. 7, in Downtown Morrilton. For more information, contact the Morrilton Area Chamber of Commerce at 501.354.2393 or [email protected].

"The Magic of Christmas" parade will be 6 p.m. Saturday, Dec. 9, in Downtown Conway. Entry forms are available at the Conway Area Chamber of Commerce. For more information, visit the Conway AR Christmas Parade page on Facebook.


Cabot's Annual Christmas Parade will be held 3 p.m. Sunday, Dec. 10. The theme for this year's parade is "A Hollywood-Movies Christmas!" This year's parade is shaping up to be one of the best ever; including several marching bands, clowns, veterans groups and of course, Santa Claus!


Entry forms, parade rules and route maps are available at the Veterans Park Community Center, the Cabot Chamber of Commerce and cabotparks.com. Entry deadline is Monday, Dec. 4.

For more information, email [email protected].

CABOT


Santa Shack planned Nov. 24-Dec. 23


The 21st Annual Santa Shack will be held at the Cabot Walmart Supercenter.


Santa will be on hand to visit with children about their Christmas wish list. There will be free candy canes for children, with photos available.


Sponsored by Cabot City Beautiful, Santa's schedule includes:


Nov. 24-Dec. 23


Fridays: 6 to 8 p.m.


Saturdays: 9 to 11 a.m., noon to 2 p.m., 3 to 5 p.m. and 6 to 8 p.m.


Sundays: Noon to 2 p.m. and 3 to 5 p.m.


Dec. 18-Dec. 22


Monday through Friday: 1 to 3 p.m. and 4 to 6 p.m.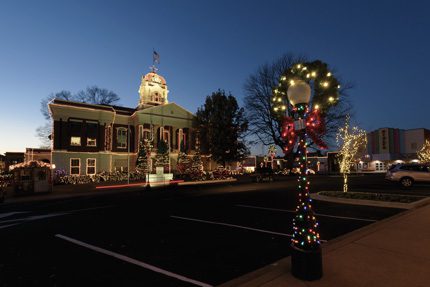 SEARCY

The 2017 Holiday of Lights is a celebration of all the festivities and attractions as well as shopping and dining destinations that Searcy offers throughout the holiday season. It is presented by the Searcy Regional Economic Development Corporation (SREDC), in partnership with the Searcy Regional Chamber of Commerce and the City of Searcy.

Festivities include light displays at Berryhill and Spring parks, Downtown Searcy and Harding University Lights on the Quad. There will also be carriage rides in downtown.

Other events include:

Holiday craft fair – 9 a.m. to 3 p.m. Saturday, Dec. 2, Carmichael Community Center, 801 S. Elm St.

Old Fashioned Christmas at Pioneer Village – 10 a.m. to 3 p.m. Saturday, Dec. 2, 1200 Higginson St.

Searcy Christmas Parade – 6 p.m. Saturday, Dec. 2, Downtown Searcy

Tour of Homes – 1 to 5 p.m. Sunday, Dec. 3, sponsored by Women for Harding. (See Page 57 for more information.)

Skating Rink at Spring Park – Tuesday, Nov. 21, through Monday, Jan. 1 (closed Nov. 23, Dec. 23-25). For pricing and other information, please call 501.278.1010.

Largest Santa collection in Arkansas – will be on display at the Carmichael Community Center, 801 S. Elm St.

Santa Hut's will also be set up on the east side of the courthouse Tuesday, Nov. 21, through Saturday, Dec. 23. There will also be carriage rides Friday and Saturday evenings beginning Nov. 24 and throughout the holiday season. The cost is $5 per person.

Visit Searcy.com/HolidayofLights for more information.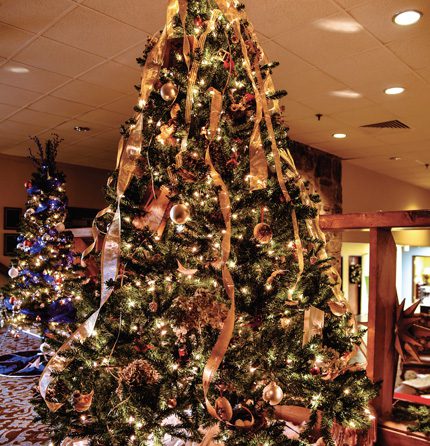 FAIRFIELD BAY

"Light up the Bay" will launch the holiday season in Fairfield Bay and kick off the annual "Festival of Trees" celebration.

The "Light up the Bay" season kickoff event will be held 5:30 to 9 p.m. Friday, Dec. 1. It features three trip giveaways, live music, food, a silent auction and the lighting of the Christmas trees. Admission is $8 per person.

Three complete vacations, including lodging, food and entertainment, will be given away to Eureka Springs, Little Rock and Branson. Tickets for the giveaway are just $10, a portion of the funds raised will go to help the needy in the area through the Shirley Food Bank. Funds raised through this event will also support Chamber programs and events in Fairfield Bay. To purchase tickets for the Big Trip Giveaway, visit ffbchamber.com.
The Festival of Trees is planned Friday, Dec. 1, through Friday, Dec. 15, at Fairfield Bay's Conference and Visitor Center, which is transformed into a wonderland of holiday elegancy and whimsy to suit any age, family or individual. Trees can be viewed 9 a.m. until 4 p.m. Monday through Friday.

Explore this special forest of trees and leave inspired and ready for the season. Each Christmas tree is decorated from its starry tiptop to its blanketed base. No two are alike and range from whimsical to traditional, from kid to pet-friendly! Be sure to cast a ballot for your favorite. And while you're there, look for the special donation box to help local families in need with your local food bank donation.

Families are encouraged to bring cameras and capture their special holiday photos. And if you want to enter a tree, there's still plenty of time and it's free! The trees may stay up throughout the month of December and on into the New Year. It is a great way to advertise a business or just simply show the Christmas spirit

Corporate sponsors are Noacon, Ozark Resort Homes, Goodwin & Herman Real Estate, Brown & Brown Insurance, Regions Bank, Red River Boating Center and Petit Jean Electric.

Fairfield Bay's Conference, Arts and Visitor Center is located at 110 Lost Creek Parkway. To find a complete list and more information about things to do in Fairfield Bay, visit visitfairfieldbay.com/events or call 501.884.4202.

CONWAY

Tribute Tree lights honor loved ones over holidays

A light on the Conway Regional Tribute Tree provides the community with a meaningful way to show appreciation during the holiday season.

Since 1999, the Tribute Tree has provided donors with an opportunity to honor and remember loved ones and other important people in their lives.

The Conway Regional Health Foundation will host a special tree lighting ceremony with refreshments and a visit from Santa at 5:30 p.m. Thursday, Nov. 30. The ceremony, open to the public, will be located at the East Entrance of Conway Regional Medical Center by the fountain. The tree will remain lit until the end of the year.

Supporters can purchase lights and ornaments for the tree in honor or memory of friends and family. Names of donors and their loved ones will be displayed in the East Lobby of the medical center and at conwayregional.org.
Tribute Tree contributes to the community by helping fund scholarships for area students who dream of working in the health care field.

For more information about honoring a special person this holiday season, call 501.513.5778 or visit conwayregional.org/TributeTree.