On a chilly winter afternoon, a large crowd warmed their appetites on several different styles and flavors of chili during "Chili for Chile" at First United Methodist Church in Conway.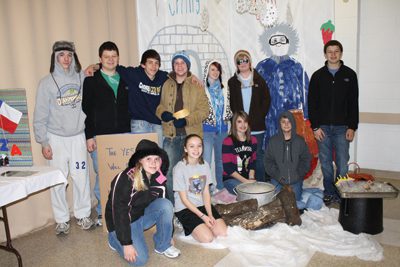 Children and adults alike put on their culinary boxing gloves in the effort to win the prestigious prize of "best chili" at the annual event which raises funds for La Esperanza, a group home and Sheltered Workshop in Santiago, Chile. Members of First United Methodist have traveled to Chile several different years to do mission work at La Esperanza with its director, Arkansan Shana Harrison.
The Mission Committee sponsors the event each year.
About $1,300 was raised this year through tickets purchased to eat chili and also to vote on the winners of best chili, best showmanship and most unique chili.
Chili winners were:
Best chili – The ninth-graders' chicken chili.
Most unique – The Y.E.S. Team's Chilly Chili.
Best Showmanship – The sixth-grade
Confirmation class, with Mount
Confirmation and their Aloha Chili.
Many of the booths were decorated with colorful themes.
Wynter Bresaw and Kathryn Predmore were "Chillin' At Chile" in their pajamas while serving "Nana's Chili," a traditional-style chili with ground hamburger and beans.
A group of four friends – Beverly Bowles, Lisa Burgess, Pat Crowder and Nancy Mulhearn – dubbed themselves the "Chili Chicks" and offered up a spicy concoction called Dulce Y Picante. They said their chili was "hot and sweet, just like us."
The long-lasting battle of beans or no beans was fought amongst several pots of chili, including those served by George Mayo (no beans, please!), George Bratton (who used roast beef ) and Mary Rose Hankins (beans, please!).
Several youth groups got involved also. The ninth-graders made a nice chicken chili and decorated their booth with a fireplace to help keep off the winter chill.
The sixth-grade Confirmation class, however, wasn't afraid of the cold, creating "Aloha Chili." Their booth was brightly decorated with a painting of Mount Confirmation and included youngsters playing drums and hula dancers in grass skirts.
At the "Chilly Chili" booth, a surprise was in store from the Youth Empowered for Service (Y.E.S.) team. Their chili was particularly unique and, according to two team members, impossible to replicate. It seems all the team members made chili and poured it together for a one-of-a-kind concoction.
Aloha Chili
(From the sixth-grade Confirmation Class chili, with special thanks to Melanie Crnic for the recipe.)
2 t. olive oil
2 onions, chopped
2 green peppers, chopped
1 poblano pepper, chopped
3-4 cloves garlic, finely chopped
2 lbs. ground chuck
1 ½ lbs. beef sirloin, cubed
1 cup STRONG coffee
2 (6 oz.) cans tomato paste with garlic
28 oz. can diced tomatoes
1 can Rotel tomatoes and green chilis
1 can beef broth
½ c. chili sauce
½ cup brown sugar
1½ T. cumin
1½ T. cocoa
1½ t. oregano
1½ t. cayenne
1½ t. dried cilantro
1½ t. salt
4 (15 oz.) cans kidney beans
Heat oil; add onions, peppers, garlic and meat. Cook until browned. Add tomatoes, coffee, tomato paste, broth and spices. Stir in two cans of kidney beans, reduce heat and simmer for 1 ½ to 2 hours. Add remaining two cans kidney beans and simmer for another 30 minutes.
Nana's Chili
(From the "Chillin' at Chile team of Wynter Bresaw and Kathryn Predmore, with thanks to Renee Bresaw for the recipe.)
1 lb. hamburger
1 large onion, chopped
1 can pinto beans, drained
1 can diced tomatoes
1 package Williams chili mix
1 green bell pepper, chopped
Brown hamburger meat, add all other ingredients. Cook until onion/peppers are tender.