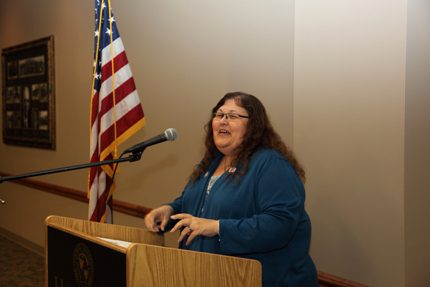 19 Dec 2016

Cheryl Cherry recognized for service

Posted at 3:26 PMh

in

News

Cheryl Cherry, board member of the White County Single Parent Scholarship Fund, Inc., has been named Volunteer of the Month for the Arkansas Single Parent Scholarship Fund.


WCSPSF, Inc. is one of 62 affiliates of ASPSF.


Cherry has been involved with WCSPSF since 2000. She was raised by a single mom whose example of courage and resiliency provided her with the inspiration to change the lives of single parent families in White County.


Cheryl has been instrumental to the growth, consistency and success of the WCSPSF and is admired and widely known in the community for her passion and dedication to the organization. She served six years as board chair and has served as scholarship committee chair since 2009. She has devoted countless hours to the scholarship program and selection process, coordinated interviews and planned award receptions. She has assisted with supervising the WCSPSF Alumni Council and Leadership Council. She has also mentored many of the WCSPSF recipients.


Cherry currently works for ASU Beebe as special needs/Perkins coordinator and also serves as president of the ASU Beebe Staff Senate.


Cherry and her husband, Mark, have a 7-year-old daughter, Gracie.